Dear coworkers,
All is not well in the West.
This week the two-year-old orthodox Jewish girl Alta Fixler died in a hospice in Manchester after authorities ordered staff to turn off her ventilator. Despite the pleas of her parents and the willingness of Israel to accept her and continue her care, the UK government asserted that it was solely within its power to decide if there was purpose in her continued living.
The next morning our great partners at the Sheba Medical Center near Tel Aviv asked us to send tiny premature Hassanein back to the Gaza Strip following his heart surgery. Since he was still on a ventilator, I called the head of the neonatal unit in Gaza to ask if they were ready to care for him. This senior doctor told me flatly: "He will die if he comes here."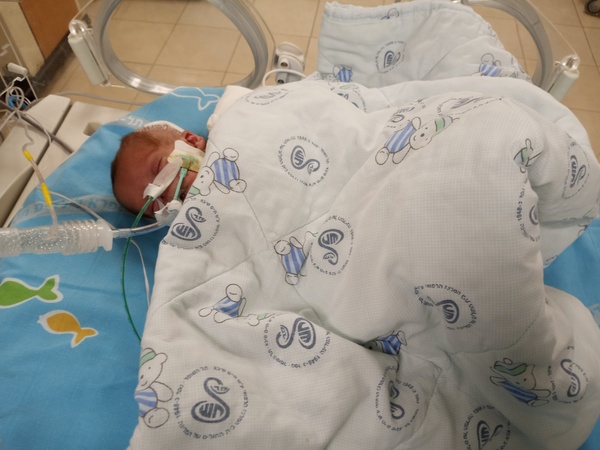 Sheba had very good reason to transfer Hassanein and free up his bed in their ICU. They had no space to accept two other newborns in Gaza with transposed great arteries who were waiting between life and death. So they wanted to believe that Hassanein could safely go back to Gaza, and another life could be saved.
Let's not have any illusions, I had to text back to Sheba. If the responsible doctor [in Gaza] says the baby will die I'm not able [to send him back].
Thank God, the Sheba doctors agreed to consult with the Gaza doctor about the reality of the terrible conditions on the ground there. The discussion about transferring Hassanein was paused. And tonight to our shock the visiting nurse Teresa reports from Sheba that Hassanein has already been weaned from the ventilator, far earlier than doctors thought possible: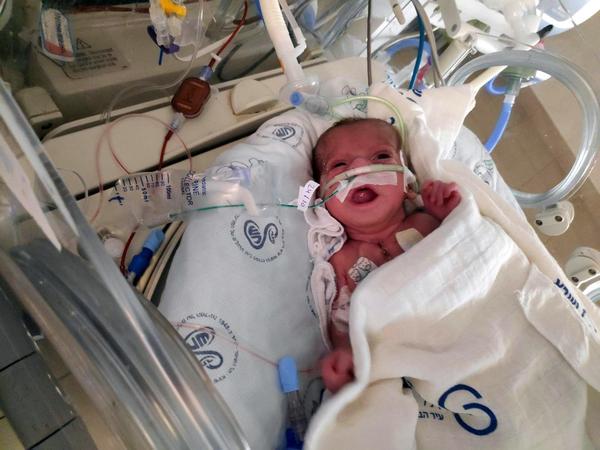 Meanwhile Hadassah Medical Center in Jerusalem somehow found space to accept the most urgent of the transposition babies who were waiting in Gaza.
It's a real struggle with the availability of the free beds,
 the ICU director there just wrote me. 
It's all around the country. I started [before corona] with 560 admissions a year. It's 910 currently.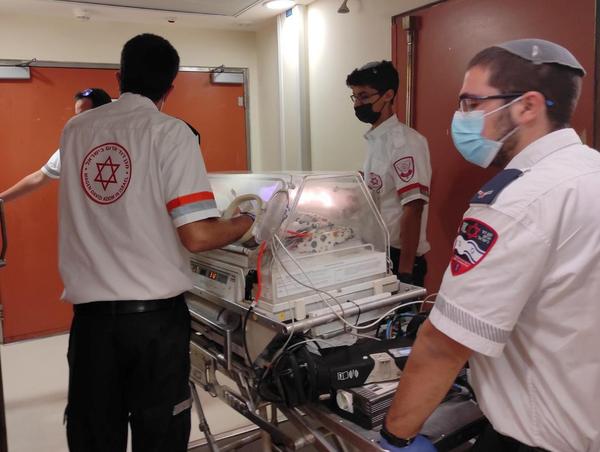 So two-day-old
Ayham
 was rushed to Hadassah on Friday morning, and just in time for doctors to stablize him. He's now awaiting surgery to switch his great arteries: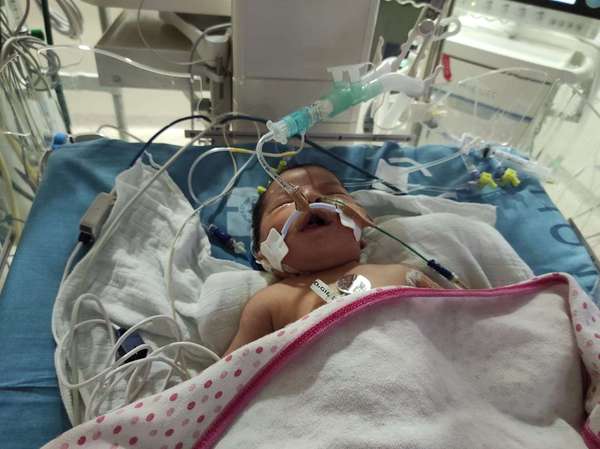 So we have these two tentative medical victories to report tonight. But those of you who've been with us for a while know there are also losses. There was no other ICU bed open for the other transposition baby in Gaza, named Zain. Not in Sheba, not in Hadassah, not in Wolfson. Thursday we finally turned to the fourth center in Israel, Schneider, which hasn't partnered with us in years. By the time they replied we already had word that Zain had died.
And I wrote you two Sundays ago about Sanad, another transposition baby whose Iraqi Sunni Arab parents fled their home to escape Iranian militias. He was a couple days away from flying to Israel for emergency surgery when he came down with corona. There was resulting lung damage, and yesterday he died in the children's hospital in Iraq. I've just come from visiting his family.
Such is the battle we and our Israeli medical partners are in. Some apparent success, some apparent failure. The word of God teaches that the greatest of all is love. Let's pray that whether we win or lose in the effort to extend life, that each family knows they've been loved by God and by his people.
Let's also pray now for a 14-year-old Kurdish boy named Farooq. He is due to fly this week for surgery in Israel, but turned up yesterday for his pre-flight examination unable to walk, with hugely-swollen abdomen and legs: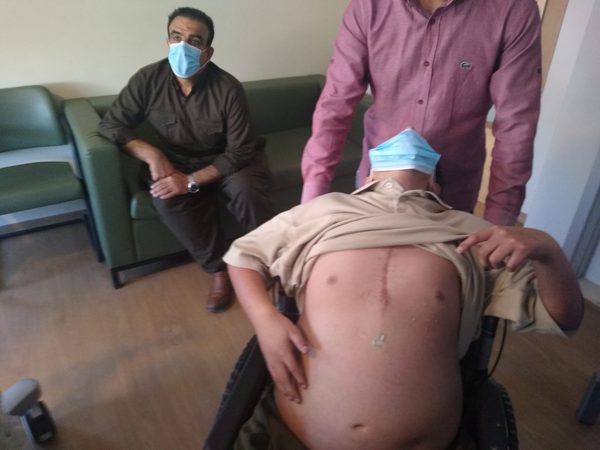 He's now in the local hospital as doctors try to stabilize him enough to fly. And of course we had to tell Sheba what was happening, so sent them today detailed videos of the whole desperate situation. Would they still accept him? Here's the reply received this afternoon:

Those of you who work in medicine know there is virtually no other hospital in the world that would still accept this case. Thank God for our partners in Israel. Somehow they still hold on to the "Judaeo-Christian values" that the West inherited from Israel, and is now busily forgetting.
As America goes, so goes the West. And as I found myself telling Sanad's father tonight, America is now very sick. Cultural elites seem to be successfully convincing an unschooled generation that their godly heritage, which saved civilization in the 20th century, is actually the root of all evil in the 21st. So it was a shock this week to hear an NBA player actually call out not US racism but China for the ongoing Uighur genocide (not to mention banning online distribution of the Bible and Quran this week as well). Who knew the truth could still be spoken on Twitter?
Our prophetic voice in the wilderness, the Messianic writer Avner Boskey from the Negev, knows something about totalitarianism after working in Russia, and is out with another letter this week challenging us to separate the truth from the lies as we enter the last days. You can read the full text here. Here's the money quote from one of Bob Dylan's songs:
My so-called friends have fallen under a spell
They look me squarely in the eye and they say, "Well all is well"
Can they imagine the darkness that will fall from on high
When men will beg God to kill them and they won't be able to die
Meanwhile faith seems to be stirring in Israel. You'll enjoy this very well-written profile of Israel's first kippa-wearing prime minister, and the criticism he's drawing from some orthodox Jews for perceived flaws in his Torah observance: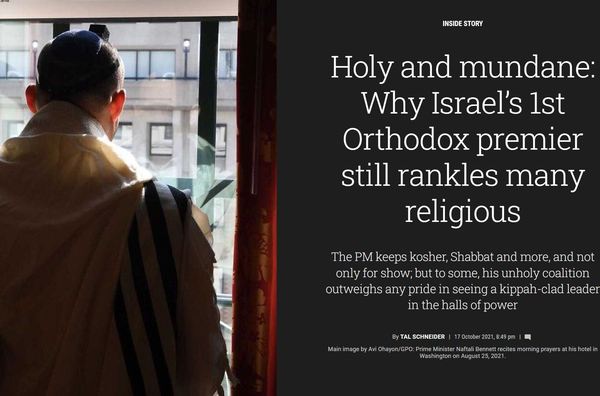 This time the money quote sounds like it's ripped from the New Testament:
"No one keeps all 613 commandments," Bin-Nun said. "There is no 100 percent of obedience. If a person observes halacha as he understands it, why should we get mad and pine for a secular prime minister?"
Meanwhile the Jerusalem Post shares that rather than fly on the Shabbat, the prime minister stayed over in Sochi, Russia yesterday when talks with Vladimir Putin ran overtime:
At Friday night dinner, Bennett spoke for 10 minutes about that week's Torah portion, an official on his delegation said.
He spoke about "Abraham's tent being open on all four sides, which teachers us the importance of being open, and the willingness to welcome new people."
Important words for Israel friends, and for us all.
Jonathan for Shevet Achim
"Behold how good and how pleasant it is for brothers to dwell together in unity" (Psalm 133).