Dear praying friends,
In our daily Bible study, we have reached this week the story of the crucifixion and resurrection of Jesus. In John 19.38-40, we read about two men who apparently have previously been unable to openly declare their interest or affiliation to Jesus:
After this, Joseph of Arimathea, being a disciple of Jesus, but secretly, for fear of the Jews, asked Pilate that he might take away the body of Jesus; and Pilate gave him permission. So he came and took the body of Jesus. And Nicodemus, who at first came to Jesus by night, also came, bringing a mixture of myrrh and aloes, about a hundred pounds. Then they took the body of Jesus, and bound it in strips of linen with the spices, as is the custom of the Jews to bury. 
When reading through this, we reflected that something has changed within these two men, in the face of the power of God. Once fearful, Joseph of Arimathea pushes his way to the front showing great courage to publicly declare his alliance to the honour of Jesus. Nicodemus also, who firstly came under the cover of darkness, is here forever written into the story of Jesus' death, as another giving his honour and love to this man, Jesus.
Later, we read of Mary Magdalene at the empty tomb, lingering, weeping, watching and then demanding "Sir, if you have carried Him away, tell me where you have laid Him, and I will take Him away." Here is another example of one of Jesus' followers, with a dedicated single vision: to honour her beloved, disregarding the impossibility of the task set before her.
Something exciting is happening in the stories of each of these individuals. In the power of Jesus' death and resurrection, they are filled with boldness and courage; something which is commanded and promised throughout the Bible: Wait on the Lord; Be of good courage, And He shall strengthen your heart; Wait, I say, on the Lord! – Psalm 27.14
Thank God that in His power we are transformed, not only just to be able to carry out the tasks which he has set before us, which, at least here at Shevet, often seem impossible! But also that He would permit us to be able to do His work with clear and joyful hearts, setting Him before us, to whom our works and our hearts are our offerings.
We have had a lot happening this week, with many of the stories of the children intertwined together as a big family. The cumulation of this family spirit was found in a very excitable farewell party last night for three Kurdish children: Abdullah, Aurfa, Mohammed Mahdi and Fayez from Gaza. All the mothers wanted to take photographs together, to remember fondly their time here in Israel where they found healing for their children.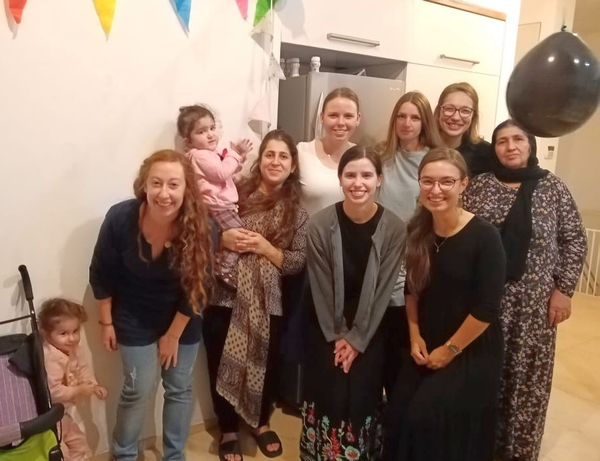 As any of you who have been here will know, Kurdish farewell parties can be fairly chaotic, and this was no exception! It was a very joyful party; Abdullah's mother gave a pre-prepared speech, multi-step translation chains flew about the room, balloons and cake were everywhere, and the families loved singing "King of Kings" together.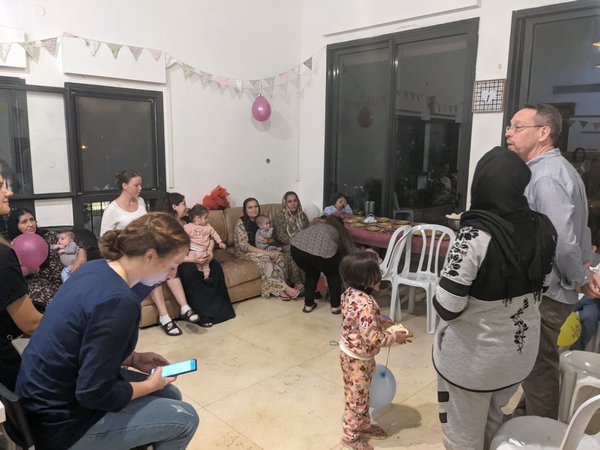 What was very touching for me was that, fairly unusually, the families were not distracted from focus of the party, which was to celebrate the mercy of God to bring about healing for these children;
Abdullah
 and 
Aurfa
 were startlingly blue upon arrival, now transformed. 
Mohammed Mahdi
 as the smallest family member is well-loved by everyone, since each of the Kurdish mothers has taken their share to support in his care, as he is here without his own mother. There are plans for the three to travel back to Kurdistan on Friday morning; so please pray for their travel.
Little Fayez was included in the party, as we were hopeful that he would be able to return to Gaza after a few weeks' stay with us, extended by a few complications with his medication. It has been wonderful to have him and his mother staying with us as well; he is a very content baby, and his mother is a gentle and sweet spirited person, and we are praying for her that her earnest and caring heart will be touched by the love and knowledge of Messiah:
It was the mother of Fayez who brought us the news Sunday night that Karim had died. Karim's mother chose to stay there that night with the other mothers, the 'family' she has found whilst in the hospital. The gift of being surrounded by people who know and care for our situations is a powerful blessing. Please pray for Karim's mother, who is back in Gaza now, that she will know the comfort of God as she adjusts to the loss of her baby, after these difficult months in the hospital: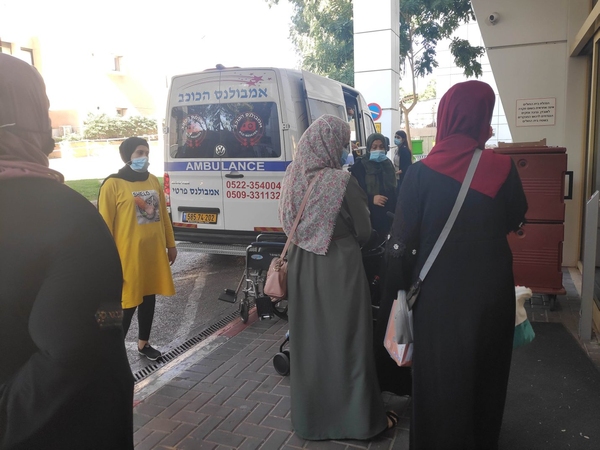 Please lift up
Ayham
, who is still hospitalised in Hadassah. Margarita has been visiting him and his mother, and was able to take her out for a day in Jerusalem this week for some brief respite. Ayham is still not in a good condition, so far unable to have the surgery to switch his great arteries, as he has an infection. He is also having bleeding in his brain: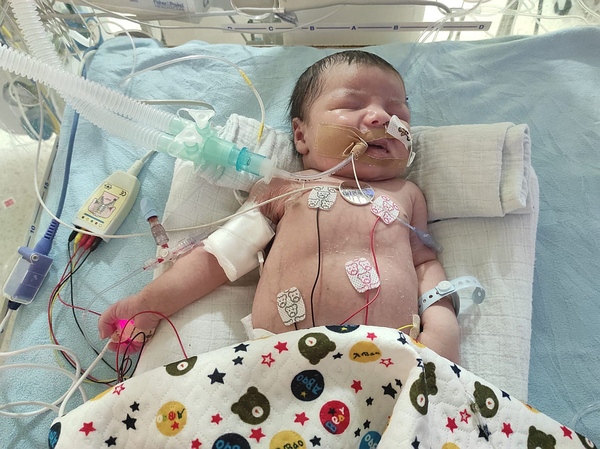 13-year-old
Farooq
 from Iraq will be taken in for his heart surgery tomorrow morning at Schneider Children's Medical Center, after a CT today to map the anatomy of his heart. The fluid retention in his legs has been reduced, but his abdomen is still swollen. Please pray for him and his father during this high-risk surgery and the long and difficult recovery that may follow: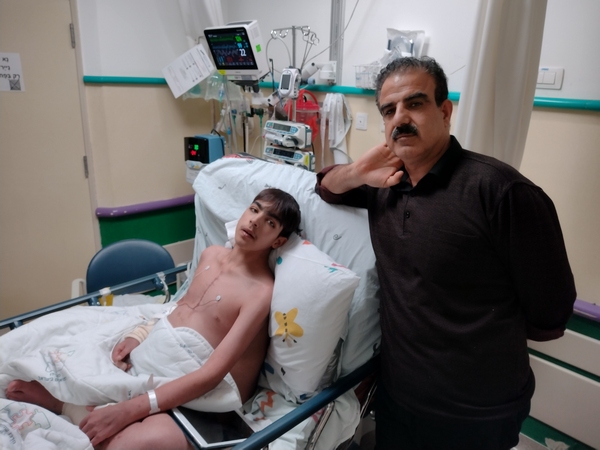 It looks like
Meer
 from Kurdistan will also be going into surgery tomorrow! Please remember him in your prayers, as well as for his kind and gentle father who is so nervous for the health of his precious son: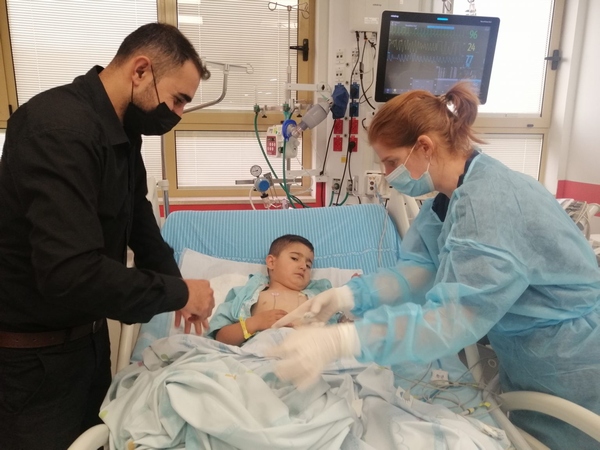 Yano is going into a diagnostic catheterisation tomorrow; her mother has been anxious for this appointment as soon as is possible. Despite a delay caused by the virus which went through our homes, Yano seems to be ready now, and we are hoping for a good outcome for her tomorrow. Please pray that God would be with her and her mother: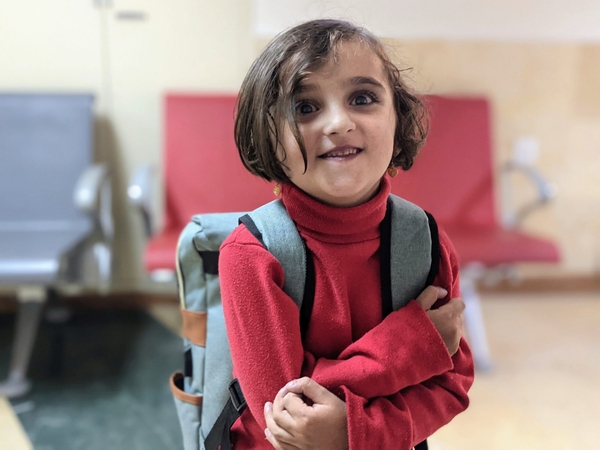 Mariya
 is still hospitalised, and when I saw her mother yesterday, despite being in a happy mood, she told me that she's only spent two weeks in Jaffa, and two months in the hospital. Mariya is doing well from her cardiac perspective, but she has an unexplained fever, so perhaps a CT scan this week will be able to shed some light on how to help her. Please keen on praying for her recovery and her dear mother, who is so joyful and able to keep hoping for the best for Mariya: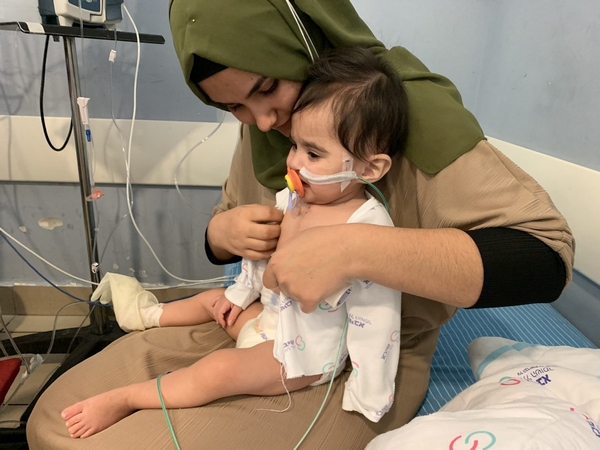 We have a few others waiting for their procedures at home;
Ahmed A
, and 
Mohammed L
 are both holding on hope that they might be called in soon for their procedures after nearly three months in Israel. Please keep praying for patience for these families.
Mohammed A was discharged to our home this week; he is on oxygen during the night, uses quite a lot of medications, and needs monitoring throughout the day. His mother has risen to the occasion, and has him constantly attached to the oxygen monitor, and is learning to take on the task of administering all of his medications. We are asking our Father for discernment about seeking a second opinion before sending this precious boy home without surgery, as has been recommended: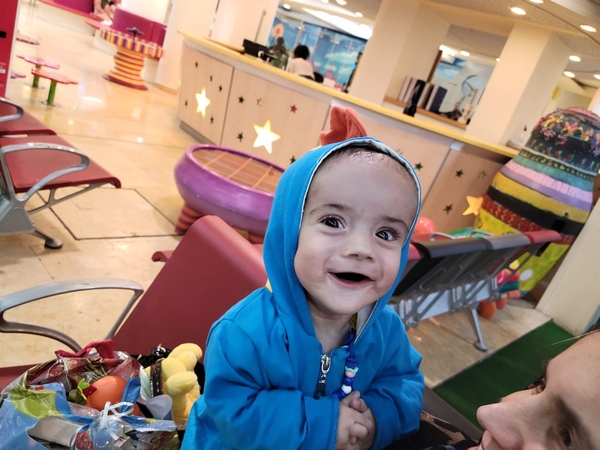 We also welcomed
Rawen
 home yesterday, just in time for the farewell party! He has had a fantastically short hospitalisation period, about one week only! Thank God for this fast healing: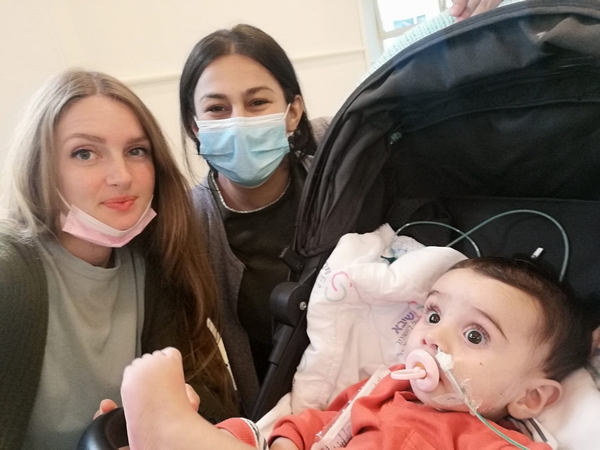 From "the staff side," not long after saying goodbye to Julio, Luzma and Paula on Sunday morning, we heard that Julio's father had had a heart attack. Thankfully the update today is that he seems to be doing better. Please pray for healing for Julio's father, and for God's hand in their transition back to life in Colombia.
At the same time as missing this lovely family, we were excited to be surprised by the arrival of Jonathan and Michelle! Our morning meeting felt familiar to have them joining us after so many months, and so please pray that they will find God's peace and welcome. We are hopeful that another couple will be joining us tomorrow, Gijs and Riet from the Netherlands. As with many of our recently arriving volunteers, they have been hoping to be able to come to Shevet for a long time, so we are thanking God for opening their way here, and for His perfect timing, and perfect design.
Thank you for praying with us, for our families, and for our hearts to be open to receive the power of God, sending us out to be His hands and his feet, with great courage and boldness.
Georgia for Shevet Achim