Dear coworkers,
Michelle and I walked into the Schneider Children's Medical Center tonight looking for 13-year-old Farooq from Iraq. We found him in the ICU chewing on a chocolate bar:
What's incredible about this is that he's already come through his high-risk, "50% mortality" heart surgery. In last Sunday's letter Farooq's abdomen was grossly swollen and surgery still seemed a distant hope; in the Shevet Prayer letter just four days ago we warned of "the long and difficult recovery that may follow" his surgery. Now tomorrow he hopes to be out of the ICU and eating the kiwis waiting for him in his room.
These stories are good for the soul friends. So many of the burdens we carry are problems that never actually happen. How precious it is when the spirit gives a gift of faith that allows us to act despite our fears.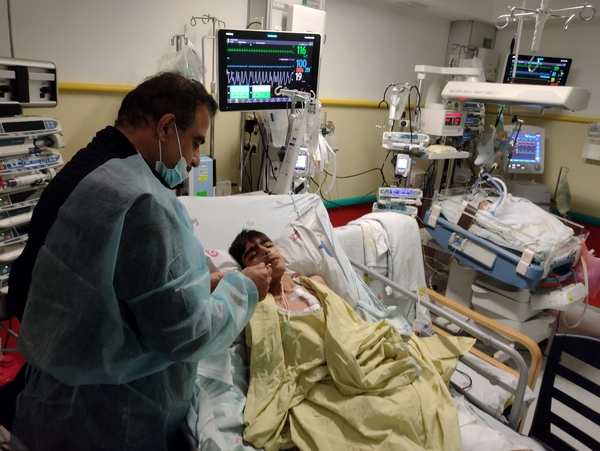 Farooq is squeezed into a corner of the ICU next to a tiny Israeli baby who also just had heart surgery. I thanked the nurse on duty tonight for making space for this big Iraqi boy, and told her how we had nowhere to take him when his plane landed at Ben Gurion airport. They try not to show it, but I can see these new Israeli medical partners are intensely curious about the faith in their God that enables these children to reach them.
Traveling with Farooq to Israel was three-year-old Meer, and he came through his own big surgery on the same day as Farooq, just a few kilometers away with our longtime partners at the Sheba Medical Center: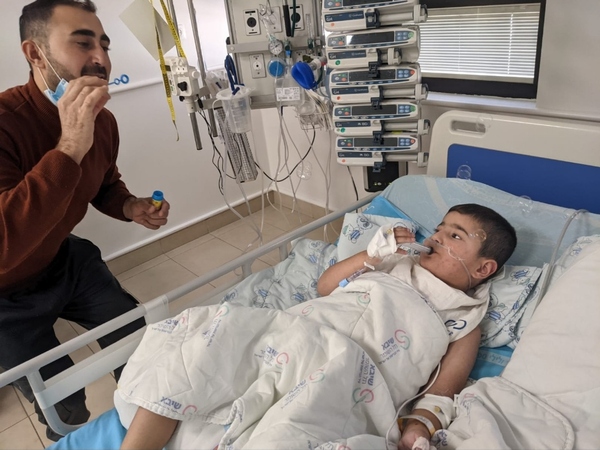 The day before Meer's surgery all the cardiologists at Sheba gathered for an important and unprecedented meeting. They wanted to let our outgoing hospital liaison Georgia know how much she'd meant to them during the past 3+ years. "You brought out the best in us," the chief cardiologist Dr. Uri told her. What a beautiful expression of our role in coming alongside the Jewish people as they reach out to their neighbors.
I remember telling Georgia "You saved Shevet Achim" as she led our tiny crew through the corona period when our coworkers weren't allowed into the country. What will we do without Georgia (and Julio, Luzma and Paula who left a week previous)?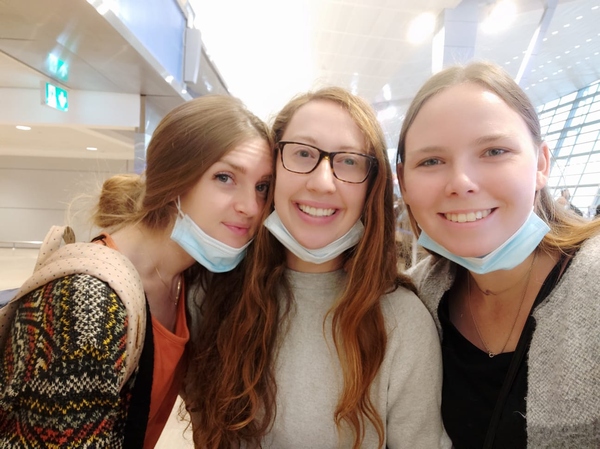 Georgia, Alena, and Sabrina
Alena, who is now our senior coworker in Jaffa, took Georgia to the airport this morning, and later shared these thoughts about our newer community members Sabrina and Ella from Germany, Joanne from Holland, and Bria and Rachel from the US:
Some tears today, but also as I think about all that has come before that I have known, being with these girls makes me so excited to see what God has. They are learning and growing together. I'm so sad in one way to be without people who were as family for the past few years, and also at the same time appreciative that I get to know the newer girls and watch them rise to every occasion. You have a very good team ahead for Shevet.
Indeed there is little that can stand in the way of committed and courageous women who are encouraged to flow with their God-given abilities. It's also mothers of former heart patients, like Ahlam and Shahla in Iraq and Majdulin ("Magdalene") in Gaza, who take the leading role in helping new families in their communities.
At the conclusion of our time reading John 20 this morning, and its description of the role of women at the resurrection, I asked the Jaffa community to summarize what we had learned. The answer, only partially in jest: "If you want a job done, give it to a woman."
I could only agree, but as we are a community committed to the scriptures and the complementary roles of the sexes described therein, I had to also ask: "Where are the men?"
The American senator Josh Hawley created a stir the past couple of weeks with his speech on the current Western cultural pressures to marginalize men:
We need men who will shoulder responsibility, men who will start and provide for families, men who will enter the covenant of marriage and then honor it…Responsibility is one of God's greatest gifts to mankind, and men must be held responsible for their actions.
Still … can we be surprised that after years of being told they are the problem, that their manhood is the problem, more and more men are withdrawing into the enclave of idleness, and pornography, and video games.
I found the comment by one young man to the Wall Street Journal particularly evocative, and particularly heartbreaking. He said, "I'm sort of waiting for a light to come on so I can figure out what to do next." I suspect he speaks for many…
The Left is telling America and its men, you're evil. You're terrible. You must apologize and submit to your government masters to be reformed.
I suggest we offer a different theme, one that goes like this. … America is yet that city on a hill, and the eyes of the world are yet upon us, looking to us for hope.
American men are and can be an unrivaled force for good in the world—if we can strengthen them, if we can empower them, if we can unleash them to be who they are made to be.
Well the original city on a hill, Jerusalem, is being rebuilt, and there is a spiritual stirring going on here, even though government and religion are hopelessly intermeshed. The new minister of religious services is an orthodox believer but is leading a mini-reformation, and he shares in 
a new interview
 that among his goals is unleashing the gifts of women:
I am an Orthodox conservative. I don't think a woman should hold the role of rabbi. But a woman who wants to give expression to her range of knowledge in halacha [Jewish law] and Torah must be permitted to do so…
[And if some of these women become prominent, and say "I want to dance with the Torah scroll on Simchat Torah"?]
That's none of my business. That's not for the minister of religious services. Every community should do what the rabbi permits. A woman can go out and buy a Torah scroll. Nothing to do with the minister of religious services.
My job is to regulate religious affairs. And I do not intend to stray from the halacha, from the Orthodox halacha, in any sphere where I have authority. I want to stress that.
Within the parameters of halacha, I greatly want to deploy women, especially in management roles, but also to strengthen the spiritual world.
It is sometimes observed that one of the great weaknesses of the Muslim world is the effective marginalization of women and thereby the gifts of half the population.
Let's remember friends, we are better together. Jew and Gentile, male and female, not identical but all one in Messiah Jesus.
Jonathan for Shevet Achim
"Behold how good and how pleasant it is for brothers to dwell together in unity" (Psalm 133).