Rejoice! Rejoice! Emmanuel
Shall come to thee, O Israel
Friends,
As we come to the end of a challenging week, and draw near to the celebration of Messiah's birth this weekend, I am reminded of the words of Zechariah in Luke 1:
Because of our God's merciful compassion,
the dawn from on high will visit us
to shine on those who live in darkness
and the shadow of death,
to guide our feet into the way of peace.
The shadow of death is a painful reality for the family of newborn Sama from Gaza, who died in the dark hours of the night between Monday and Tuesday.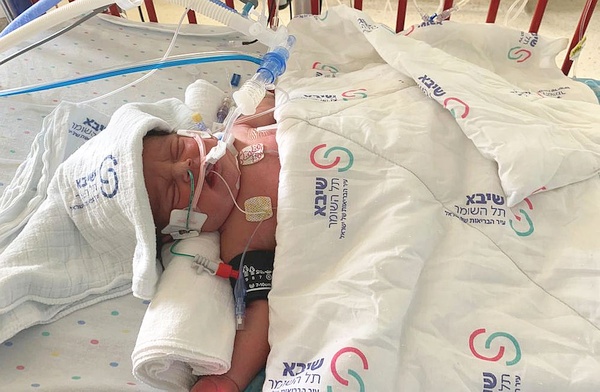 The day before, the doctor in the ICU explained to me with tears in her eyes that Sama was experiencing multiple organ failure; her tiny body had stopped responding and she was receiving morphine to make the last hours of her life comfortable. We can rejoice that she is safe in the arms of her Creator now, but our hearts ache with her grieving family in Gaza.
Meanwhile the life of tiny Rifan, another of last week's emergency transfers from Gaza, now hangs in the balance. Late yesterday afternoon, she was taken into a third surgery in an attempt to stabilize her blood pressure, which has been dangerously low since her first operation three days ago. The doctors are unable to determine why her heart isn't functioning properly, and the ICU doctor explained yesterday that with no other options, Rifan would have to go on ECMO heart-lung support: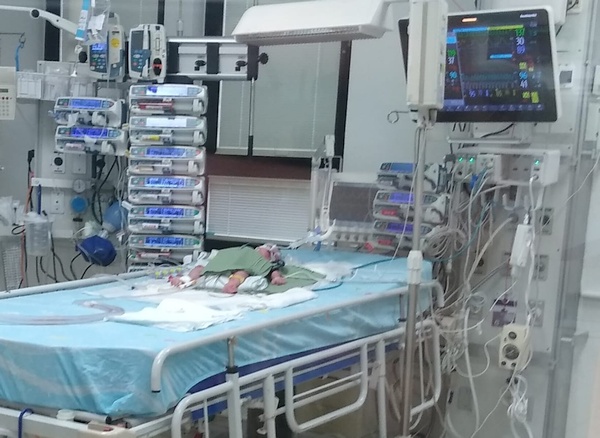 The same is true for three-year-old
Akar
 from Kurdistan, who is in precarious condition following his long surgery last Thursday. The operation initially appeared to be successful, but Akar's heart is not functioning well and as of yesterday afternoon, his condition had not improved since the surgery. Yesterday, the doctor in the ICU asked me to explain to the mother that they are extremely concerned for Akar and that if he did not improve soon, they may have no option but to put him on ECMO: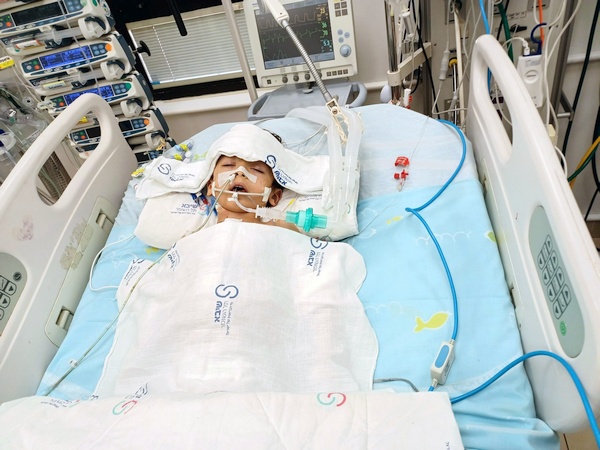 For those of us here in the community, both staff and families, the prospect of the ECMO machine instantly brings to mind sweet
Yano
, who died a few short weeks ago after a week on ECMO heart-lung support. While it is easy with this in mind to succumb to anxiety, we must choose instead to trust that Rifan and Akar's lives are in the hands of a God who loves these precious children more than we can possibly imagine, and who holds the power of healing. And indeed, just a few minutes ago, we received word from Sabrina and Ella-Tabea at the hospital that both Rifan and Akar have improved a bit today and there is no need for ECMO support for either one at this time. Truly, thank God for his love and care for these little lives.
Let's also pray for two-month-old 
Rohat
 from Kurdistan, who is in the ICU at Sheba hospital with a respiratory virus. The doctors are optimistic for his recovery, but the surgery to correct his transposition of the great arteries is already overdue and will have to be further postponed until he is completely recovered from this virus. Please pray for a quick and full recovery so doctors can move forward with his surgery: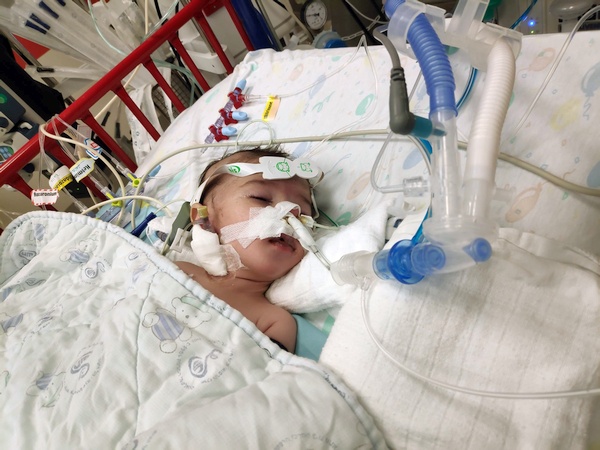 Little Ibrahim, Rohat's traveling companion from Kurdistan, had a successful surgery yesterday to switch his great arteries and close a hole between the left and right chambers of his heart. Praise God, there were no complications, and he is now recovering in the ICU at Sheba hospital: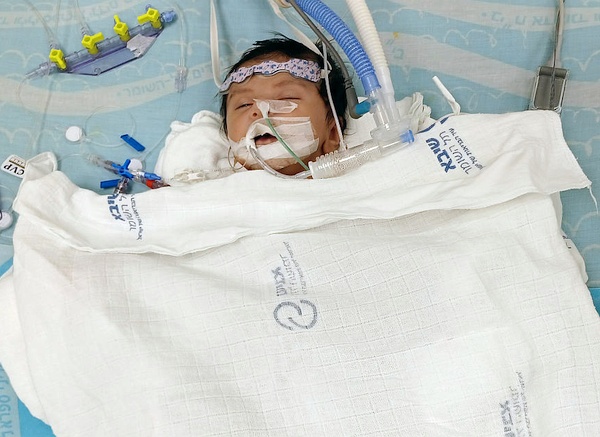 Two-month-old Balsam from Gaza had a successful preliminary surgery on Tuesday to prepare for the upcoming operation to switch her great arteries. Due to the urgency of her situation last week, Balsam arrived with her grandmother, but her mother has been quite eager to obtain permission to come herself. Yesterday, praise God, we were able to bring the mother from Gaza to be reunited with her baby girl. Please pray that little Balsam will recover well from this week's surgery and be ready for her big operation soon: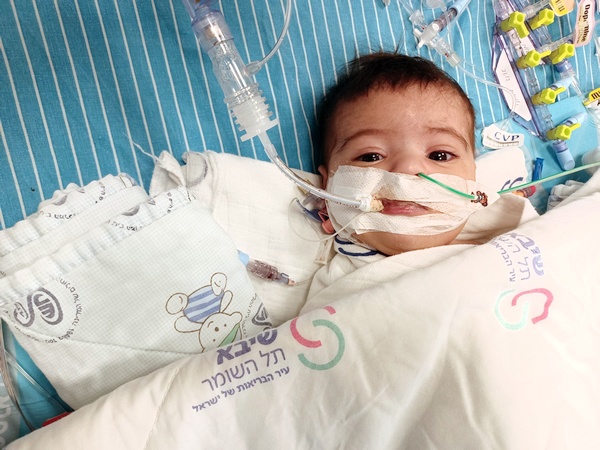 This week also brought good news for Omar from Gaza, who was discharged from Sheba after a two-month hospital stay. This moment was especially sweet considering Omar's oxygen plummeted to the 30s shortly after his arrival in Jaffa. When the doctor explained the situation to me and Alena that night—"He's not good. We're doing our best to help him, but he could die anyway"—it was hard to imagine him going home happy and healthy: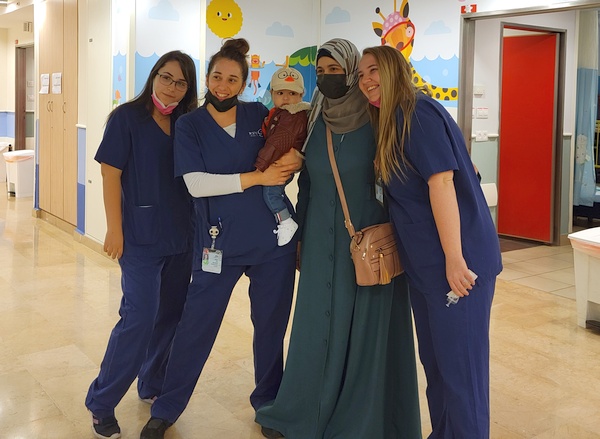 But God is good, and Rachel shared that as she drove Omar and his mother back to the border crossing, Omar seemed like a different boy than the sick, unhappy baby who arrived two months ago. Thank God for his faithfulness and love for this precious little boy: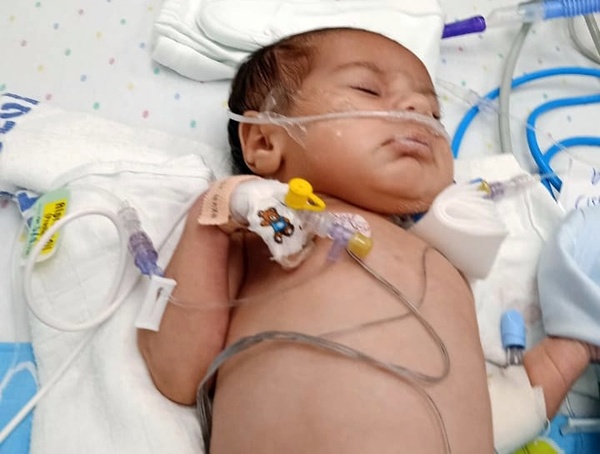 Meanwhile in Jaffa, our good friend Mizgeen is awaiting what will, God willing, be the last of three surgeries to correct his single ventricle heart defect. This surgery was tentatively planned for this week, but we learned that he needs to have some dental work done before they can take him into surgery, due to risk of infection. This is scheduled for early January, and in the meantime, we're all enjoying his energetic presence and infectious smile at our home in Jaffa: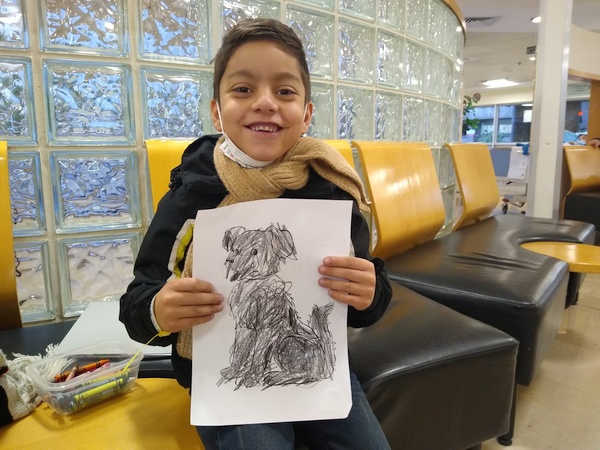 After an appointment at Sheba hospital yesterday, Mizgeen joined me for a visit to Mariya, who is very close to returning home to Kurdistan. She underwent a test for her kidneys yesterday morning, and just a few hours after her visit from "Dr. Mizgeen," Mariya was discharged to Jaffa. She was discharged by her cardiologist some time ago, and she is now only waiting for follow-up appointments with the nephrologist and urologist before she is cleared to return home: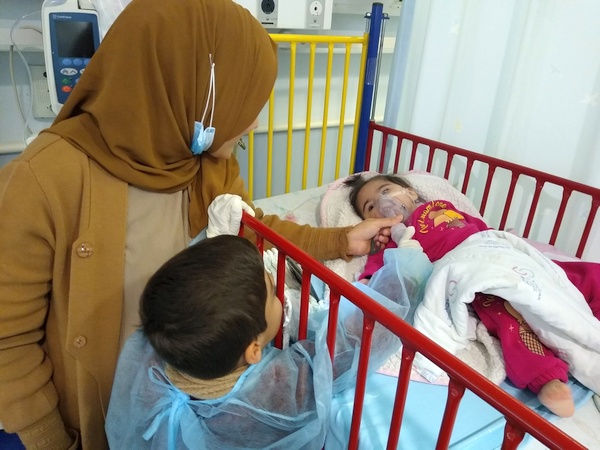 The last week has been very difficult for Mariya's mother, whose father is in the final stages of a battle with cancer. She told me yesterday that she wants very much to go home and be with him, but she's committed to finishing this course of treatment for Mariya. Please pray especially for her and her family during this difficult time.
And as the Israeli borders remain closed due to the Omicron coronavirus variant, please pray for a group of four young German women who are hoping to join our community. We hope to get special permission for them to enter Israel, but in the words of the foreign ministry, "this is problematic." We're grateful for their willingness to serve alongside us and for their patience and persistence in the midst of all these delays. Join us in prayer that a way will be opened for Amelie, Dorothee, Hanna and Lilly to join us soon: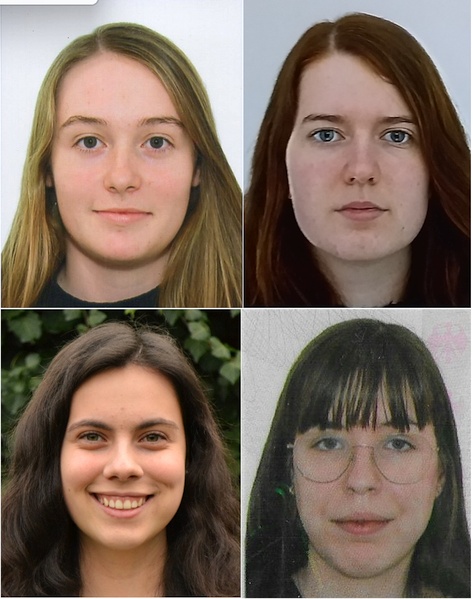 Let's also remember before our Father the $404,000 which are still needed at this hour to support Israeli hospitals for the 100+ surgeries they performed in 2021.
Finally, let us return for a moment to the words of Zechariah. His prophecy, uttered in complete faith and trust, is true now as it was when he spoke it. As we celebrate this weekend the coming of the Messiah, we look forward to his return, when the dawn from on high will come to deliver us from the shadow of death and guide us to peace. O come, Emmanuel.
Thank you for joining us in prayer,
Bria for Shevet Achim