Friends,
That's the sound (click above) when our tiny Jaffa and Jerusalem communities–nine souls all together!–joined tonight for the last time in 2021.
To remember all the LORD has done for us throughout this year. Less than half our previous size, yet more forgotten children than ever before made it through the doors of our partner hospitals for heart surgeries in Israel. It's almost like Gideon's army. He wants it clear to whom the glory belongs.
"Sometimes you have to take risks," an Italian newspaper quoted me as saying today. "And God's help comes."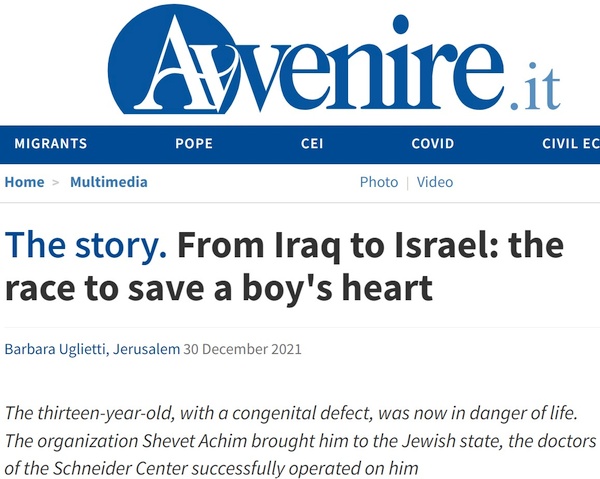 (You can read the whole article by clicking on the headline above, and allowing your browser to translate from Italian).
And we lifted up to our Father tonight the last remaining risk from 2021: the promise we made to the Israeli hospitals that we would share equally with them in all their surgery costs.
Today, praise God, we paid our commitments to the Hadassah Medical Center in Jerusalem. And we've already paid our biggest partner, the Sheba Medical Center near Tel Aviv, for half of the surgeries they've performed in 2021.
The remaining half will still require $450,000 from us, and as of this hour (according to our constantly-updated online total) $112,592 of that amount has already come in.
The good news here again is that God doesn't expect (or want) us to do this in our own strength. Our worldwide community is still the same tiny band we've always been. For the last many years the list of those receiving this email has been steady at about 1400 addresses. Of this number about 500 actually open and read it each week.
This is our Father's way. Why did he choose Israel, the least of all the peoples?
And all our Messiah asks from us is what we have on hand. Five loaves, two fishes. And he does the rest.
So join us in praising God tonight with full hearts. I'll update you again tomorrow night on where we stand.
Jonathan for Shevet Achim
"Behold how good and how pleasant it is when brothers dwell together in unity" (Psalm 133).