Dear coworkers,
It was stirring over the weekend, to see friends old and new digging deep and standing with us to meet our commitments to help Israeli hospitals with 2021 surgeries. According to our online counter (click here and select "2021 year-end commitments") $124,322 has now come in toward the total needed of $450,000.
Thank you to everyone who obeyed God by giving. And thank you to anyone who may have obeyed God by not giving. He is far more interested in our sanctification than in our success, and we should be too. We're trying to learn in our community to be grateful for adversity and discipline, because we know that without these things we won't be transformed.
And I believe our community is on the cusp of a transforming year. Within a few weeks the only long-term members remaining in our community will be Margarita, Michelle and myself. And we've been asked to move out of the large, comfortable building in Jaffa which has been our main base for the last five years, as one of the owners would like to sell his duplex.
There's some pain in all this, but I believe it is from the Lord. It takes time to build a community's culture, and even more time to change it. Now we have some excellent new coworkers and more waiting to join us as soon as the borders reopen, and we will be gathering in a new location. So here is a rare opportunity to listen to the Spirit and re-envision our calling and how we carry it out.
One thing I believe is that we'll emerge from this much less Western-facing. Almost all of our workers and finances and communications are geared to the West. (And thank God for the way believers in the West have been used to share the word of God around the world in the past century.)
But I am convicted that we should be sharing the message of our community in Arabic and Kurdish and Hebrew with as much or more energy as we do in English. We should be giving these peoples in the Middle East greater opportunity to join with us as coworkers, and even to join us in funding the work of the Israeli hospitals. Maybe they are the piece that is missing at this year-end.
It's also true that the West is desperately sick morally, spiritually, culturally, politically and economically. It's becoming harder to avoid the conclusion that God is giving us over to delusion, and that the revolution wrought by coming of the word of God almost two millenia ago is coming undone with unfathomable speed. Here's the way the NY Times described this week French author Chantal Delsol's book The End of the Christian World:
Christians brought what she calls a "normative inversion" to pagan Rome. That is, they prized much that the Romans held in contempt and condemned much that the Romans prized, particularly in matters related to sex and family. Today the Christian overlay on Western cultural life is being removed, revealing a lot of pagan urges that it covered up.
To state Ms. Delsol's argument crudely, what is happening today is an undoing, but it is also a redoing. We are inverting the normative inversion. We are repaganizing.
Like Israel and its Arab allies throughout the Middle East (ah it's sweet to write that phrase) this means that we can no longer depend on an America that is distracted and divided and dissolute and withdrawing from its role as the world's policeman. Enemies of liberty are emboldened and preparing to devour their prey, whether China eyeing Taiwan or Russia the Ukraine.
Not coincidentally both Russia and especially China are in parallel drastically reducing freedoms to share the word of God. Note also the NY Times' excellent portrayal this month of growing persecution of Christians in India, which this week even banned funding for the work of Mother Teresa's order!
Something's happening in the world friends. Yes it's sobering to enter 2022 with our financial commitments still outstanding, and sobriety is exactly what we'll all need in this new year. Particularly in the area of finances. The Politico website this week ran a long, clear and simple primer on the coming financial crisis: "The Fed's Doomsday Prophet Has a Dire Warning About Where We're Headed."
He retired from the Fed in late 2011, and after that, a reputation hardened around Hoenig as the man who got it wrong. He is remembered as something like a cranky Old Testament prophet who warned incessantly, and incorrectly, about one thing: the threat of coming inflation.
But this version of history isn't true. While Hoenig was concerned about inflation, that isn't what solely what drove him to lodge his string of dissents. The historical record shows that Hoenig was worried primarily that the Fed was taking a risky path that would deepen income inequality, stoke dangerous asset bubbles and enrich the biggest banks over everyone else. He also warned that it would suck the Fed into a money-printing quagmire that the central bank would not be able to escape without destabilizing the entire financial system.
On all of these points, Hoenig was correct. And on all of these points, he was ignored. We are now living in a world that Hoenig warned about.
The Fed is now in a vise. Inflation is rising faster than the Fed believed it would even a few months ago, with higher prices for gas, goods and automobiles being fueled by the Fed's unprecedented money printing programs. This comes after years of the Fed steadily pumping up the price of assets like stocks and bonds through its zero-percent interest rates and quantitative easing during and after Hoenig's time… To respond to rising inflation, the Fed has signaled that it will start hiking interest rates next year. But if that happens, there is every reason to expect that it will cause stock and bond markets to fall, perhaps precipitously, or even cause a recession.
The writing is on the wall friends. The West has been weighed in the balance and is found lacking from every perspective. What then should be done by those who call on the name of the LORD?
For a very little while longer, we still have some peace, some health, some resources, some ability to travel, some freedom to speak. Let's resolve to give all these fully and intentionally to the kingdom of God while it is still day. This is not the time to relax and listen to the band play on the deck of the Titanic.
It's the week for resolutions; here is a list of 13 excellent ones inspired by Jonathan Edwards. I'll share the first six:
1.) Resolved to put on the apron of a slave, asking how I might die to self in service to my Lord, my family, and my brethren.
2.) Resolved to study Scripture and order my life, in full, to the purpose of pleasing God and showing myself a workman approved.
3.) Resolved to see all men as souls on either the path to destruction or the path to glory. Further resolved to preach the gospel as unto dying men.
4.) Resolved to stand for truth, even if all the world will not. Further resolved to speak truth, even if all the world will hate it.
5.) Resolved to take idle moments captive for the furtherance of prayer and meditation on the Word, so as to redeem what little time the Lord wills I have left.
6.) Resolved to guard my speech so as to speak only what is fitting, wise, and to the edification of my fellow man, rather than what is ruinous.
Finally this week, I'll ask for your prayers for our community members and for the families we are serving. Full details as always can be found in our 
weekly prayer letter
. But two families are especially on our hearts this weekend. First of all three-year-old Akar from Kurdistan, who Alena found today 
still in critical condition
 more than two weeks after his surgery:
Akar was supposed to have an MRI this morning in the Sheba Medical Center Pediatric ICU, but this was canceled because he has developed sepsis. With his heart already very weak, this is a very dangerous infection.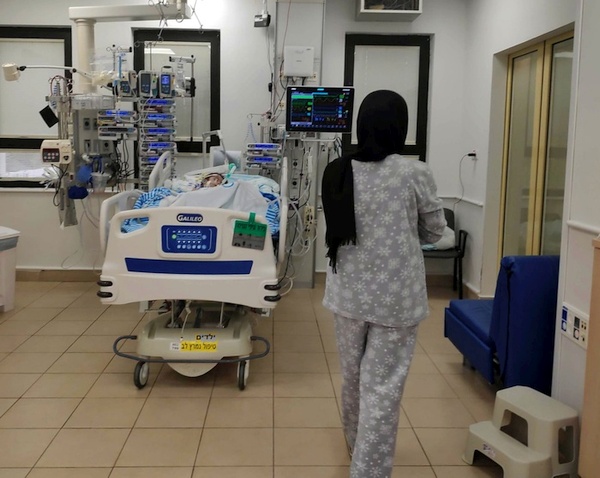 I can only ask you to continue to pray for him and also for his mother who understands the gravity of the situation. She herself is struggling; yesterday she went to the ER with coworker Ella because of abdominal pain.
It is common that parents of children who are very seriously ill, end up going to the ER themselves because these parents are often in a cycle of not sleeping or eating or even drinking because because they are so focused on and worried about their child.
Tonight she has been extricated from the hospital for a short bit of respite from that environment and will be resting at the Jaffa house where, I pray, she can find some solace in much-needed fellowship.
And then our longsuffering Mohammed L. Given up by doctors in Jordan and Iraq, finding new hope in Israel, but now after five months with us and his treatment plan uncertain, Mohammed is losing hope. This weekend he was rushed to the hospital with a high heart rate, defibrillated and put in the ICU: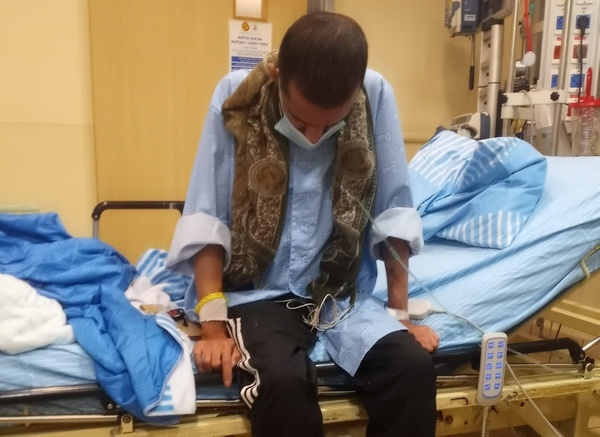 He needs the Lord. We need the Lord. And we find him among the members of his body. Thank you for standing with us, watching with us, and praying with us as we enter 2022.
Jonathan for Shevet Achim
"Behold how good and how pleasant it is for brothers to dwell together in unity" (Psalm 133).