I have called you by name; you are mine.
When you pass through the waters,
I will be with you,
And the rivers will not overwhelm you.
Isaiah 43:2a
Friends,
As the first week of the new year draws to a close, we continue in prayer for three-year-old Akar, who remains in critical condition in the ICU at Sheba hospital following his heart surgery three weeks ago: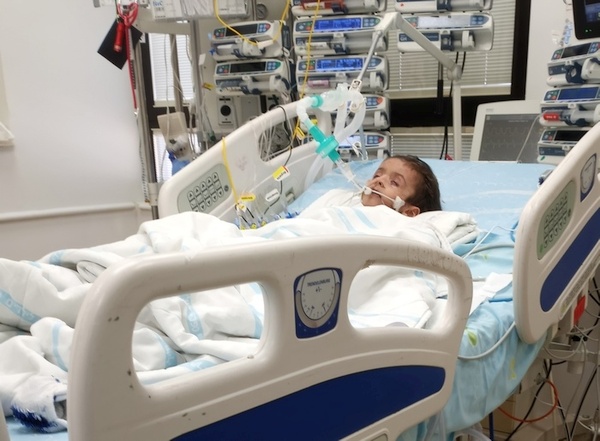 The doctors discovered earlier this week that Akar has developed sepsis, a serious threat to his already fragile body. They began treating him with antibiotics immediately, and thank God, both the sepsis and his heart function have shown signs of improvement. His cardiac support has been lowered in the last couple of days and his heart is still stable.
However, Akar's lung function and ventilation have deteriorated significantly. Yesterday morning, the doctors attempted a catheterization in order to dilate his pulmonary artery, but he had a reaction to the contrast agent used in the procedure and the doctors were unable to complete the intervention as planned. He is recovering in the ICU while the doctors decide how to proceed with treatment.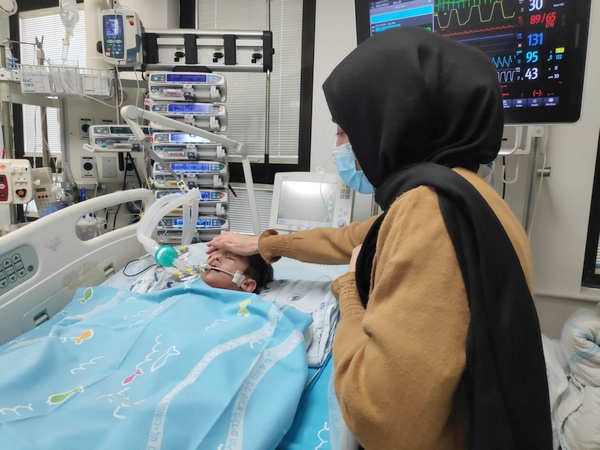 This ordeal is, of course, exhausting for Akar's mother, and I'm in awe of the grace and strength she has displayed over the last few weeks. She is characterized by patience and quiet strength; on the day I met her, I can remember watching her calm her rambunctious little boy by stroking his hair and speaking his name softly to him. Two days ago, I watched her do the same thing standing by his hospital bed, speaking his name with such love and tenderness. Her gentle love for him is a beautiful reflection of God's love and care for this precious little boy. In the faith that Akar is, as always, in the hands of God, please join us in prayer for his healing.
Also in the ICU at Sheba is tiny Sally, who arrived from Hebron over the weekend. Sally has a ventricular septal defect— a hole between the ventricles of the heart— and a lung malformation. She needs surgery soon, but she's currently battling a serious virus and a bacterial infection. Please pray for Sally, who seems to be in a precarious situation, and for her father, who is caring for her here at the hospital and is very worried about her: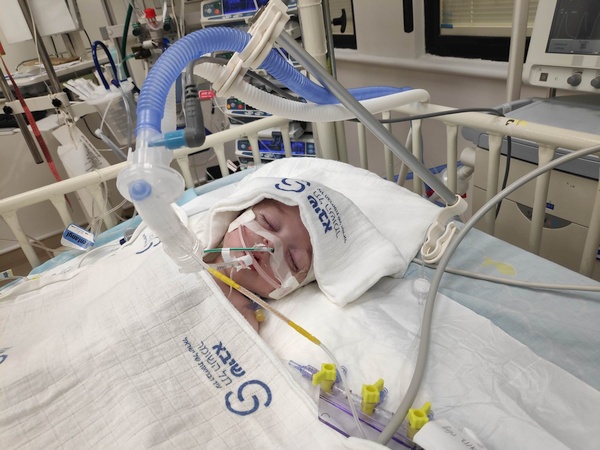 33-year-old
Mohammed L
, no stranger to the ICU at Sheba by now, had an episode of tachycardia (extremely elevated heart rate) in the early hours of Shabbat morning. Alena and I rushed him to the emergency room, where the doctors stabilized his heart rate with a defibrillator and recommended that he be admitted to the hospital for close monitoring. This was disappointing for Mohammed and his mother, who are both reluctant to spend time in the hospital, but the doctors didn't want to take any chances: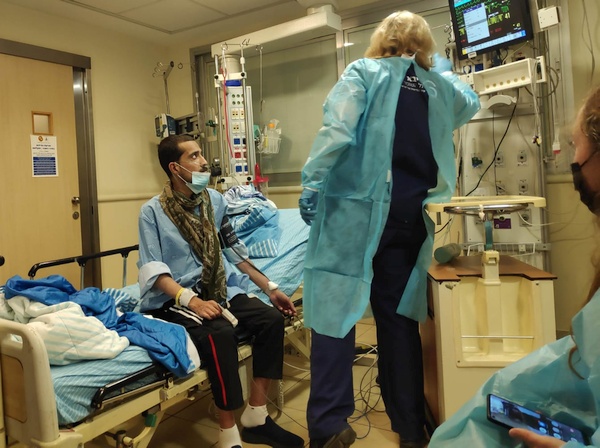 We're grateful for their diligence and wisdom; Mohammed experienced another episode of tachycardia while in the hospital and was able to receive treatment right away. After some changes in his medication, he was discharged to Jaffa yesterday. He and his mother are both quite excited to be back in Jaffa, and we pray that they will enjoy some time of rest and waiting here.
Meanwhile, little Rifan from Gaza has made a remarkable recovery after quite some time in critical condition. She had another surgery this week after the doctors discovered that the left side of her diaphragm was paralyzed, and she's now extubated and recovering well in the ICU at Sheba hospital: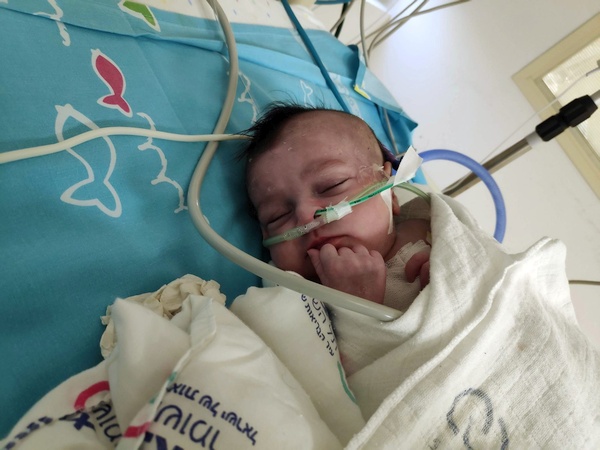 Her mother has been exuding joy these last few days. "Rifan is well, so I am well," she told me in Arabic this week with a big smile. She has been a wonderful support for the other mothers in the ICU, and we're so grateful for her kind spirit, as well as her baby girl's recovery.
Three-month-old Rohat from Kurdistan, who has been in the Sheba ICU for three weeks battling a virus, was at last stable enough to go into surgery this week. What was planned to be a one-stage switch for the transposition of his great arteries became instead a preparatory surgery when, midway through the operation, the doctors determined that it was too dangerous to perform the full surgery right away. Instead, they placed a pulmonary artery band and a shunt that will prepare Rohat's little heart for the big operation which, God willing, will take place within two weeks. Rohat's mother was quite anxious about the surgery, especially when the plan changed at the last minute, but she has remained in good spirits and is eager for the next surgery to repair Rohat's heart: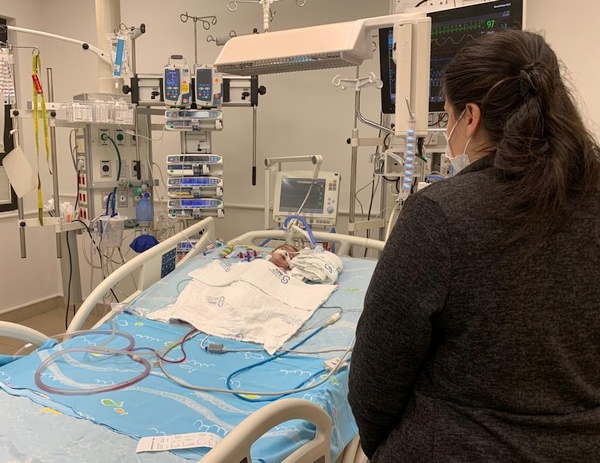 And we're praising God for the recovery of Rohat's traveling companion from Kurdistan, two-month-old
Ibrahim
, who was discharged from Sheba on Sunday after his surgery last week. He had a follow-up echo this week, which looks good, and the doctor wants to see him again in another two weeks. In the meantime, we're enjoying time with Ibrahim and his mother: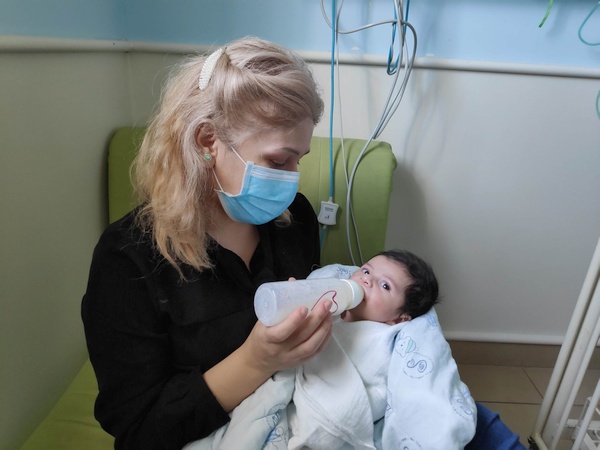 Also in Jaffa is four-year-old
Meer
, who is now very close to returning home to Kurdistan. His cardiologist is quite happy with the condition of his heart, and we're now just waiting until Meer's INR— a test to measure the speed of blood clotting— is within a safe range. We hope this will happen in the next week, as Meer's dad is looking forward to going home to surprise his wife with their now-healthy little boy: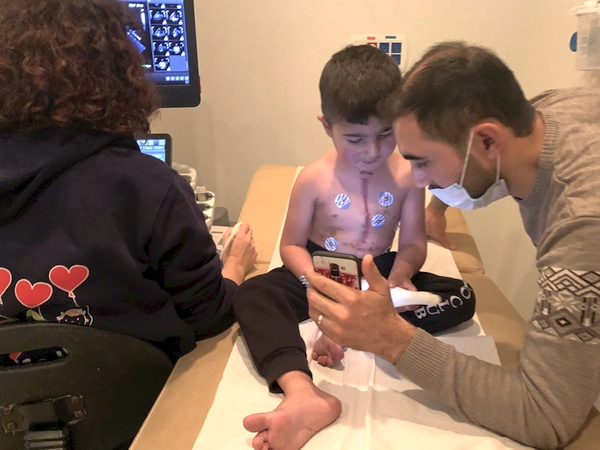 And let's not forget little
Abed
 and his mother, who have been waiting patiently in the ICU at Sheba for quite some months now. As it's looking increasingly difficult to get Abed to a rehabilitation hospital here in Israel, his mother is now hoping to get a ventilator for him so they can go home soon. Back home in Gaza, her other children are sick with the flu, and one has been hospitalized, so it's very difficult for her to be here for so long. I can't imagine how difficult it must be to have two precious children in different hospitals and to be unable to be with both. Even so, she is still a smiling and welcoming presence in the ICU, and we all love visiting her and Abed. "It's Abood!" she often exclaims to him, coaxing one of his brief and heart-melting smiles. Please pray for strength for Abed's mother, who has been so patient and gracious for so many months, and that a decision will be reached soon for the next steps for Abed: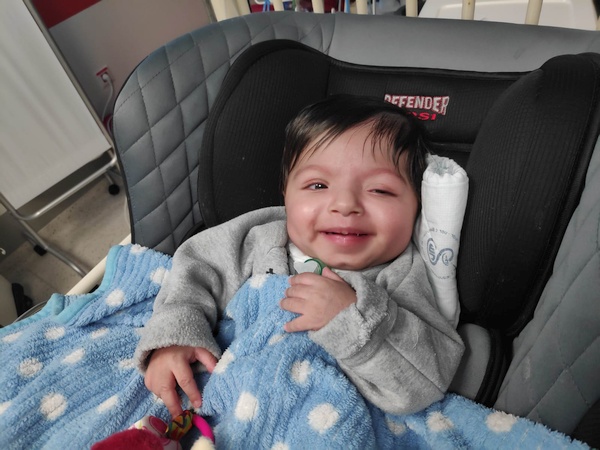 Finally, we're glad to report that two-month-old
Ayham
 from Gaza has been discharged from Hadassah hospital in Jerusalem after spending nearly his whole life so far in a hospital room. It's been quite a journey for little Ayham, who has recovered from infections, a brain hemorrhage, and a high-risk catheterization. Coworker Margarita has been faithful in visiting Ayham and his mother, and she and Alena brought them to our Jerusalem guesthouse yesterday while he waits another month for his major surgery: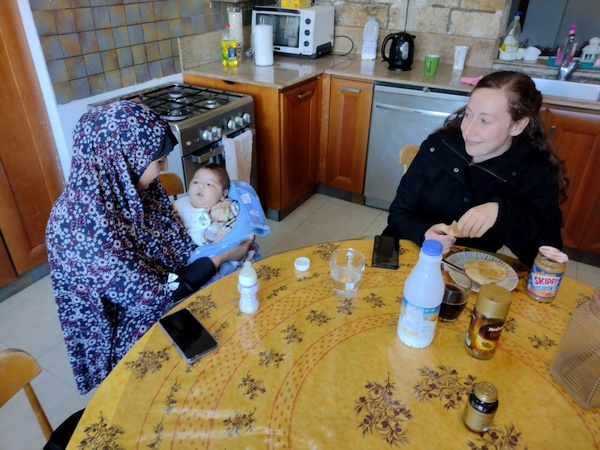 God knows the name of each of these precious children, the names given them at birth, and the particular names their mothers whisper lovingly over their beds. Not one of them is forgotten. From 
The God of the Garden
, a beautiful and reflective book by singer-songwriter Andrew Peterson:
Could it be that by naming something, by making it particular, we're making it holy? Isaiah 43:1 tells us, "I have called you by name; you are mine" (ESV). God chose, out of all the peoples of the earth, the Jews to be his people, his holy nation, a community set apart to experience his love in a particular way. Calling someone (or something) by name does more than just ascribe affection or underscore belonging— it also adds to the story of creation, places them (or it) squarely in the grand narrative of time.
And he knows our names too, and he has called us by name to follow him. What a blessing that is to our community— to know that each of us has been called by name by a God who holds us in his hands, who is calling us to serve him, who is leading us toward eternity. May we hold fast to this calling now and always.
Bria for Shevet Achim