Rescue those being led away to death
and restrain those stumbling toward the slaughter.
If you say, "Behold, we did not know about this,"
will not He who weighs hearts consider it?
Does not the One who guards your life know?
Will He not repay a man according to his deeds?
Dear coworkers,
This proverb of Solomon grasped the attention of our community this week in our morning meeting. We talked first of its use by the pro-life "Operation Rescue" movement in the US in the 1980s; rather than turn a blind eye to what was happening in their local abortion clinics, believers were prepared to go to jail in large numbers for participating in non-violent protests. The movement petered out when anti-racketeering laws were applied, and protestors were at risk of losing their homes and possessions.
And living among the people of Israel we also had to consider the Holocaust. There's hardly a family here that hasn't been scarred in some way. While the National Socialist movement was consistently and vehemently anti-Christian, the Jewish people commonly perceive the perpetrators of this genocide as Christians. It's true that a majority of the churches either supported their government during this period, or kept quiet. And many culturally-Christian individuals took active part in the killing, while even more looked the other way.
But–thank God–there were also thousands who couldn't look away, and risked their lives to protect the Jewish people. In Israel they call them the "righteous among the nations," and the director of the Yad Vashem department that honors them once told me that a majority of these righteous were specifically motivated by their faith in Jesus. My personal conviction is that we are entering a season in which we will again have opportunity to show our faith by our works in this way.
We also talked about the hope that our little Shevet Achim community is walking in this same spirit, by refusing to look away or walk away while the children of Israel's neighbors are dying. It's shocking that a 45-minute drive from Israel's big medical centers there are still desperately-ill children left to die untreated in Gaza, and few say or do anything about it. We believe it is essential to the calling and well-being of Israel that this is not tolerated in silence.
Most doctors in Israel feel the same way, and again and again tell us how grateful they are for our partnership to get these children to them. Last year about half the children who had heart surgeries in Israel's largest hospital came from Gaza and Iraq through our community. But as we've seen, getting involved with those being led away to death is risky and costly; after another week of slow and steady progress we still owe just under $305,000 for those surgeries.
I was invited today to meet with Sheba hospital's new VP for finance in three weeks' time. Let's trust God and pray for continued favor, as Sheba is now carrying itself about 60% of the normal costs for surgeries and only asking us for the remaining 40%.
I caught another glimpse of the gratitude of the people of Israel this week, when workers at the foreign ministry asked me to record a brief video for social media telling how they partner with us to get Iraqi children into the country (click here or below to watch):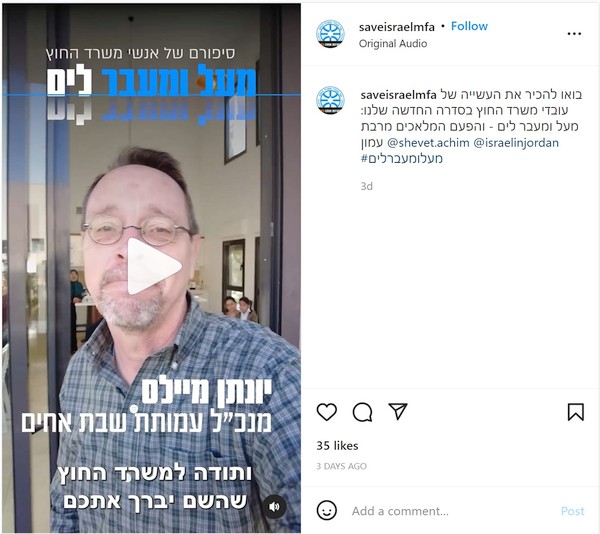 In the video I named the two consuls in the Israeli embassy in Jordan who've worked closely with us, and explained: "Behind me is a home filled with children from the north of Iraq, who were dying from lack of medical care. They came to the land for life-saving heart surgeries at the Sheba Medical Center. This is a miracle, it is a beautiful thing. How does it happen that they enter the state of Israel? The people of the foreign ministry working at the consulate in Amman, Jordan, working day and night to make possible their entry. Many times I've called them in the middle of the night to say there's a problem, they were always ready to help. Take a look at the results: children with a new life, Kurds from the north of Iraq. Thank you, thank God, thank you to the state of Israel. Miracles! All of them were dying. Now…thank God, and thank you to the foreign ministry, may God bless you."
One of the consuls wrote me: You moved me very much. I am happy that I had a part in aid to save children and helping them come to the land.
The other responded soon after: You moved us greatly and we're happy to be part of this holy work and will do our best to continue, and give a shoulder to help so that children are able to come to Israel for urgent medical care. For me and the team at the consulate there is great satisfaction to be part of this moving project. Thank you for the very important work and your contribution to this important project.
Friends, we see it again and again. The people of Israel love to be part of this, because when they do they are stepping into their God-given destiny: I will make you a blessing to all the peoples of the earth.
We're better together. Jews and Gentiles, becoming one new man. I look forward to seeing the end of the story.
Jonathan for Shevet Achim
"Behold how good and how pleasant it is for brothers to dwell together in unity" (Psalm 133).