Friends,
It's been quite a journey for newborn Rohat from Kurdistan, who has been in the ICU at Sheba hospital almost since his arrival in Israel two months ago. His mother has grown increasingly anxious about him, and almost seemed to lose hope as the days stretched into weeks with no answers for her baby. A diagnostic catheterization on Tuesday indicated that he was ready for the surgery to switch his great arteries, but the doctors didn't know when the operation would be—maybe in a few days, maybe longer.
You can imagine, then, her excitement on Wednesday morning when, to everyone's surprise, the doctors arrived to take Rohat into the operating room. One of the other moms at the hospital called me as he went into surgery—"We didn't know the surgery was today!" she kept saying excitedly—and coworker Moshe arrived quickly to wait with Rohat's mother. Jonathan, Michelle, and I joined them soon after, and after five and a half hours, the doctor came out of the operating room to announce that the surgery went well, there were no complications, and Rohat is stable: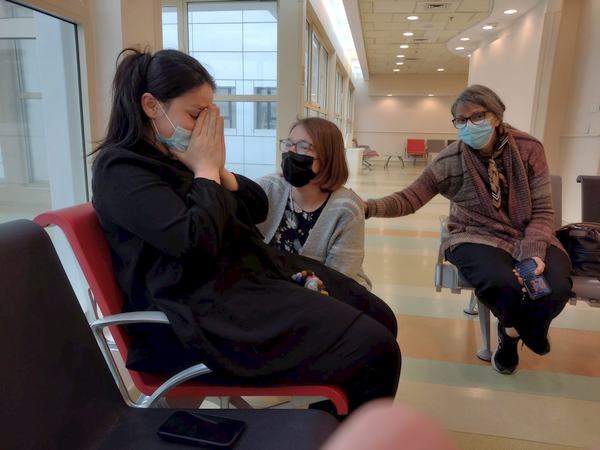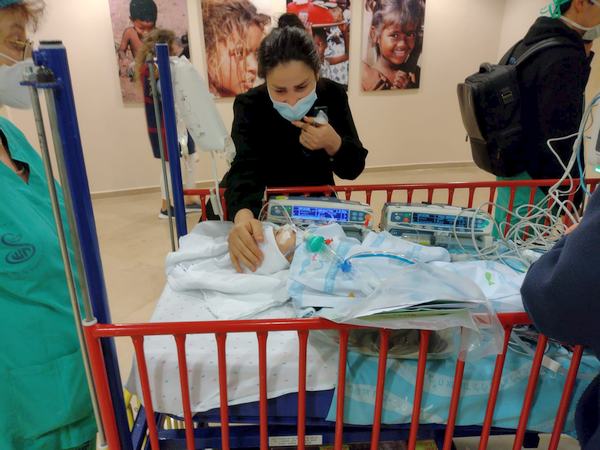 When Rachel and I arrived at Sheba this morning, we were met by Rohat's mother, absolutely exuding joy and insisting that we come see him right away. The doctor in the ICU said they are very pleased with Rohat's surgery and recovery, and they plan to extubate him soon.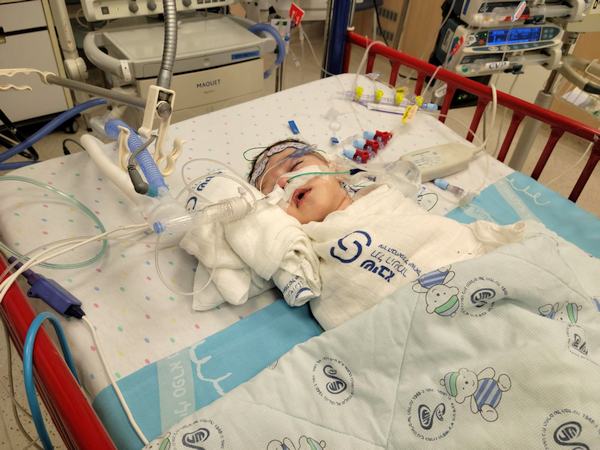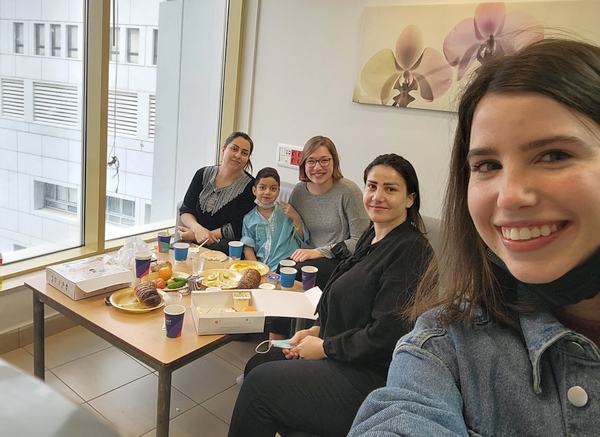 "I prayed and prayed for this," Rohat's mom told us in Kurdish with tears of joy in her eyes. "Every day I prayed and I didn't know what would happen and the doctors didn't know and you didn't know. But God knew, he always knew."
Nor will he forget two-year-old Ahmed from Gaza, who had surgery on Tuesday to strengthen his diaphragm after he was put back on a ventilator at the beginning of the week. His mother, like Rohat's, has grown very anxious and discouraged in recent days, but she too was radiating joy this morning. "Ahmed is a little better today!" she told me and Rachel in Arabic, then added with a smile, "Shway, shway"—Arabic for "little by little." Thanks be to God for bringing Ahmed so far!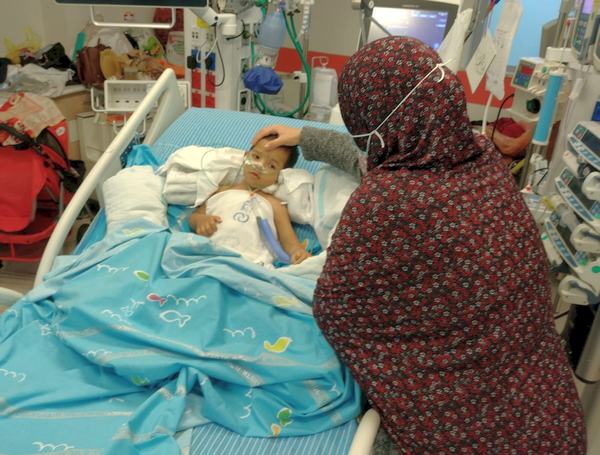 We are also thanking God for little Zheer and his mother, who are at this moment on their way home to Kurdistan. Zheer's mom waited a few days after Zheer was discharged last week in the hopes that there would be another mother and child ready to travel with her, but when no one else was ready to go, she decided to brave the journey on her own. God willing, she and Zheer will be reunited with their family in a few hours: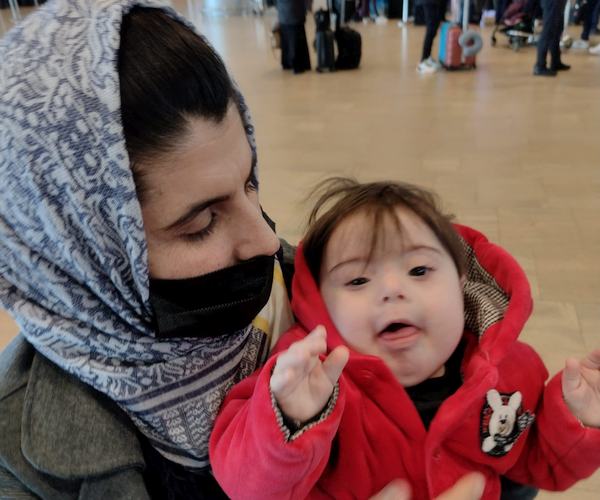 The mother of three-month-old Ibrahim was also hoping to travel home this week, but Ibrahim's MRI on Sunday showed that he has some blood between his brain and skull and needs to stay in Israel for a bit longer for treatment. The neurosurgeon will evaluate his situation on Tuesday and decide whether he needs surgery or just some medication. His mother is hoping that Ibrahim will not need another surgery, but she is determined to do whatever his best for her baby. "Anything as long as he is healthy," she says every day.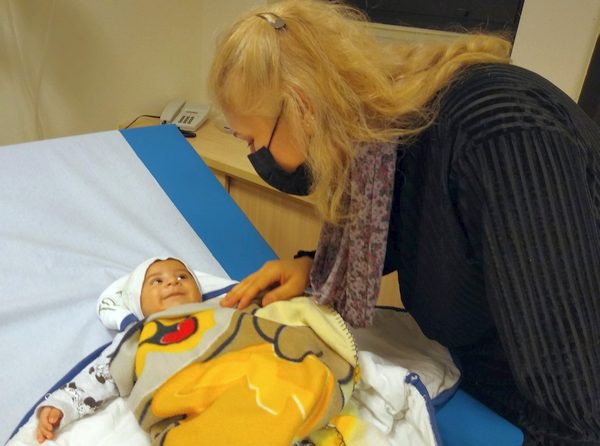 In the meantime, we're enjoying their company at our Jerusalem guesthouse. "Mr. Mouse," as his mom affectionately calls him, is an adorable little guy, and we're grateful for the time we get with him and his mother.
This week also brought more delays for three-year-old Ahmed from Kurdistan, whose long-awaited catheterization was postponed again due to a shortage of ICU beds at Sheba hospital (the cardiac ICU is temporarily serving as a corona ward). Ahmed has been in Israel for close to six months now, and his mother is anxious to be reunited with her family at home. Nonetheless, she's still in remarkably good spirits all things considered, and we're glad for her presence with us.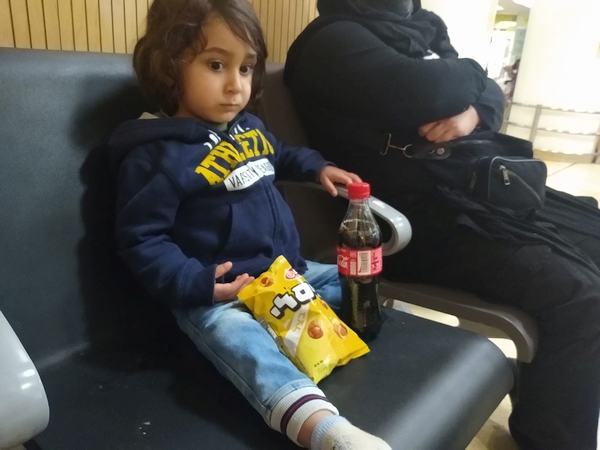 Ahmed's cardiologist is working hard to get things moving forward for him, and we're grateful for her dedication and support. Please pray that a room would open up for Ahmed so he can have this vital procedure before he goes home.
Meanwhile, we're also waiting for a hospital room in Gaza to open up for Abed so he can be discharged from Sheba and go home to his family. This week the last of the necessary machines and supplies were delivered to his room at Sheba, so he's ready to go just as soon as there is space available in Gaza. Pray that there will be a place in the hospital for him soon, as he and his mother have been away from their family for nine months. Though it's been a long a difficult road for Abed, we know that God has not forgotten him or his family, and we're trusting him to provide a way home: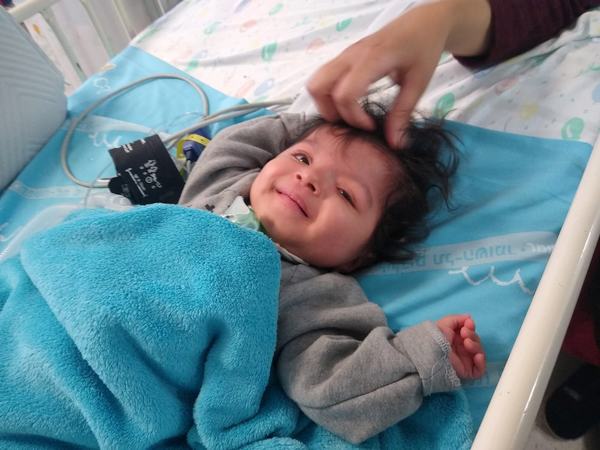 Baby Musa is also very close to going home to Gaza. After trying for a few weeks to teach him to eat through the mouth, the doctors have now decided that it's better for him to go home with an NG tube and feeding pump until he can have the surgery to repair his cleft lip. We delivered a feeding pump to his hospital room this week, and his grandmother is now learning how to use it before he is discharged to Gaza: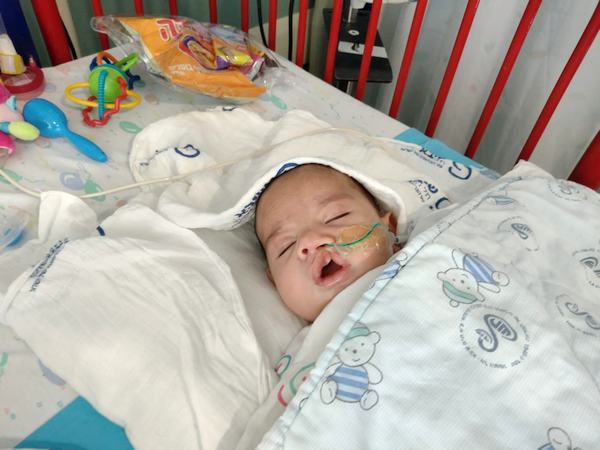 Tiny Sally from Hebron is still fighting a long uphill battle in the pediatric ICU. After her surgery last week to place a shunt to drain water from her brain, doctors are once again concerned that Sally may have a bacterial infection in her blood. Please continue praying for this precious baby girl and her parents: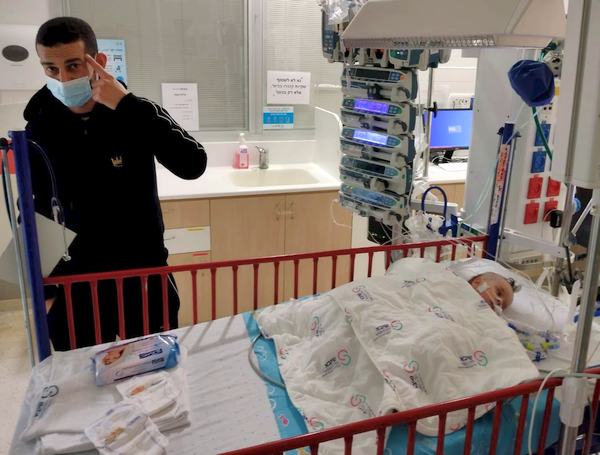 Also at Sheba hospital is six-year-old Mizgeen, who is making a very good recovery after his Fontan surgery last week. This morning, Rachel and I found him in the middle of an echo, and very happy about it. "I love the echos," he told me with a big grin.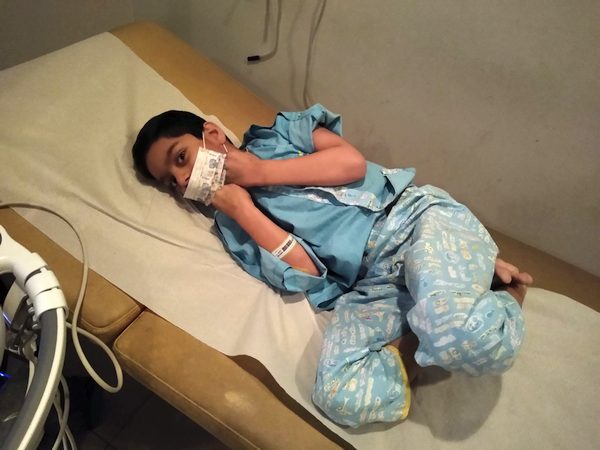 His heart is doing well, though his cardiologist is increasing one of his medications in order to improve the heart's contractions, and doctors plan to discharge him to our guesthouse as soon as his blood coagulation tests are within a good range.
While Mizgeen waits to be discharged, he's enjoying time with his roommate at Sheba, our good friend Mustafa from Gaza. Mustafa was admitted for surgery this week, but his operation has been delayed until there is a bed available for him in the ICU. These two boys can often be found sharing toys and games or chatting with each other in Kurdish and Arabic: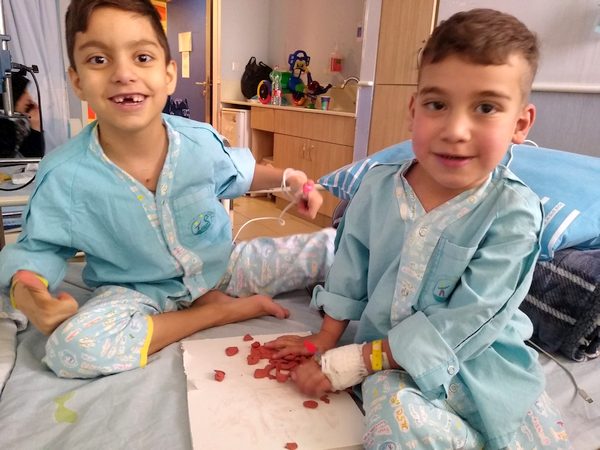 Each and every one of these children is known and loved by God. As Rohat's mother reminded us this morning, even when we don't know the way forward, God has not forgotten any of these precious children, and he never will. In the words of the prophet Isaiah,
            He tends his flock like a shepherd:
            He gathers the lambs in his arms
            and carries them close to his heart;
            he gently leads those that have young.
How blessed we are to have a Father in heaven who cares so deeply for even the tiniest of his children. May we never forget his infinite goodness to us.
Thank you for joining us in prayer,
Bria for Shevet Achim