But if anyone has the world's goods and sees his brother in need, yet closes his heart against him, how does God's love abide in him? Little children, let us not love in word or talk but in deed and in truth.
Friends,
Two weekends ago volunteer Israeli ICU doctors helped evacuate two emergency newborns from Gaza. On Monday morning baby Qusai went into a hybrid surgery/catheterization procedure, the first of multiple operations needed to repair his complex single ventricle heart. The doctors operated for seven hours while coworkers Amelie and Willem waited and prayed with Qusai's grandmother in the waiting room. Finally, the surgeon came out with the news that the surgery was difficult— Qusai had to be resuscitated several times— but successful.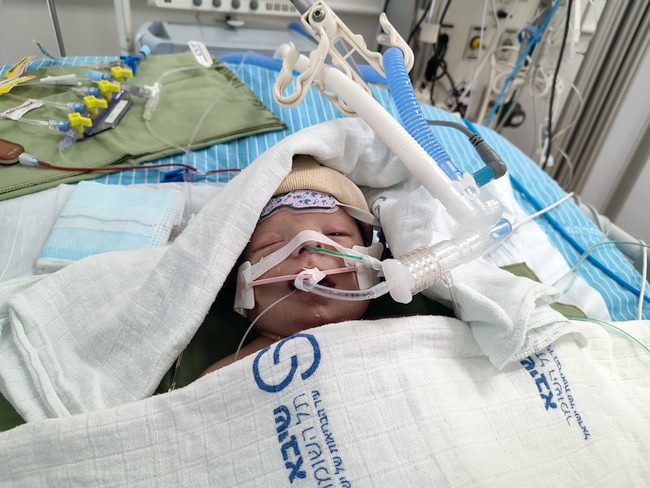 Three days after the procedure, Qusai is still unstable, and his chest is still open in case urgent intervention is needed. As of this morning, the doctors are very concerned that his heart is not responding to the high doses of medications they are giving him. "We think he might be past the point of no return," the doctor in the ICU told Willem this afternoon. "But he is still with us. We'll keep trying. We won't give up."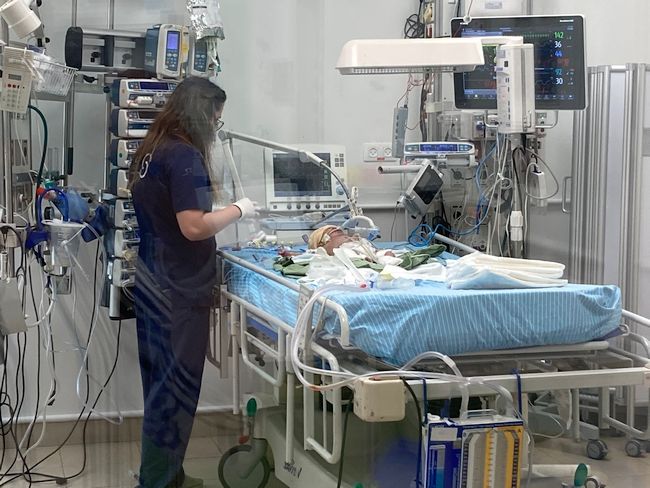 Qusai's case is very complicated and we are constantly amazed by the incredible care he is receiving from the medical team at Sheba hospital. While many programs would turn away a child with such a difficult prognosis, the doctors and nurses at Sheba have worked tirelessly to give little Qusai the best chance possible. "It is really amazing to see how much the doctors are doing for these children," Amelie wrote on the day of the operation. "Today, they really fought for Qusai's life. And I'm sure God was with the doctors in the surgery."
The doctors and nurses are also fighting hard for newborn Anas from Gaza, who has the same diagnosis as Qusai and is now finally stable after his surgery last week. He did very well over the weekend, so on Sunday morning the doctors took him back into the operating room to close his chest: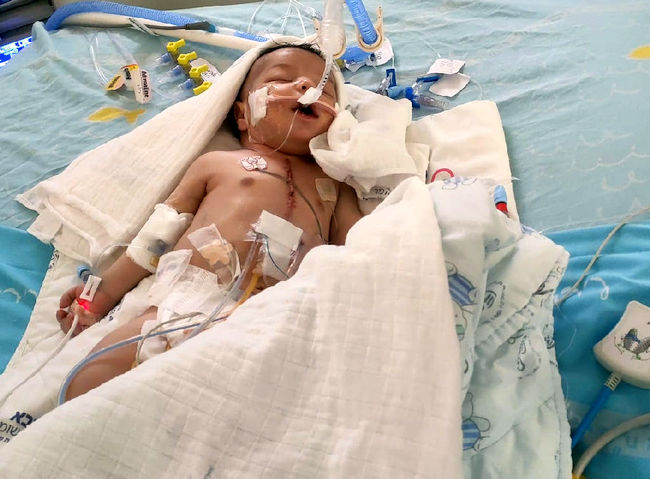 His medication support has already been decreased and he is recovering well. Anas and Qusai's grandmothers have become good friends and comforts to each other during this difficult time, and we're enjoying our time with them during our visits. Please continue to pray for these two little boys and their families.
And last night the first of two more new emergency transfer babies from Gaza arrived in the pediatric ICU at Sheba hospital. Somaia has a hypoplastic aortic arch, a condition where one of the great arteries is malformed and does not allow blood to flow to the body. She has been able to survive until now with the help of a ventilator and a medication to keep a pathway open for blood to flow, and the doctors at Sheba are now evaluating her situation to determine a course of treatment: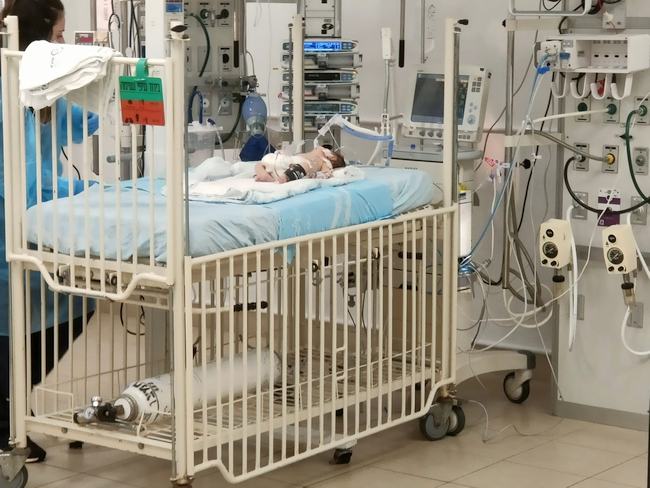 The second of these two babies,
Malak
, has Down syndrome and arrived by ambulance at Sheba late this afternoon. She is breathing on her own, but needs urgent intervention to treat her heart defect: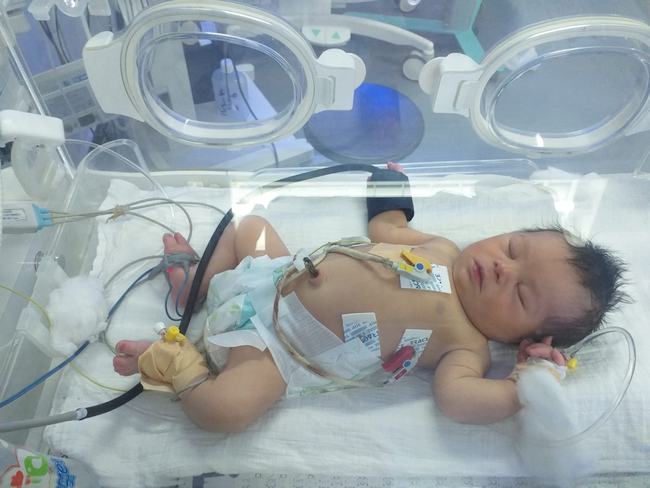 Please pray for Somaia and Malak and their families as they begin their treatment at Sheba.
Meanwhile, handsome little Kenan from Gaza is doing well in the secondary ICU at Sheba. His heart condition is very good, but his eating needs to improve before he can go home. The doctors discovered in a test this week that Kenan has difficulty swallowing and some of his milk is going to his lungs, so they are working carefully with a dietician to find just the right food for him: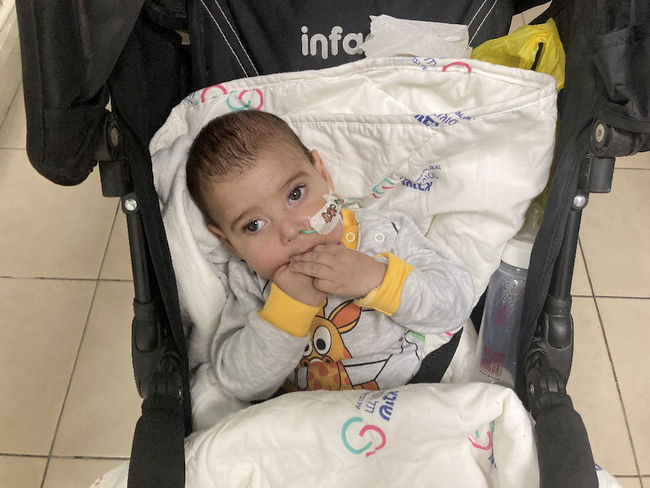 Two-year-old
Ahmed
 from Gaza also needs to learn to eat before going home. He is walking very well now after a couple weeks of rehabilitative therapy at Sheba, and is now trying to talk as well, which is a huge step for him: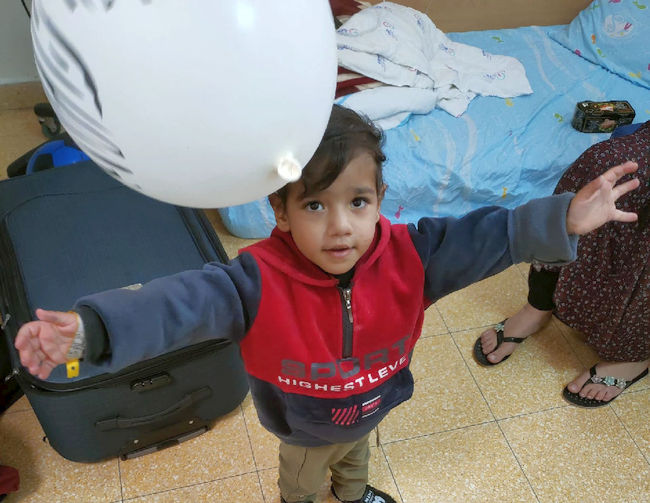 I met him and his mother as they were going out for a walk yesterday, and Ahmed greeted me with a high-five. His mum is very excited and optimistic about his progress. "He's very, very well. He only needs to eat now," she told me in Arabic, then added with a shrug and a grin, "
Shway, shway
"—Arabic for "slowly, slowly." Thank God for Ahmed's amazing recovery!
Little Fayez from Gaza had a catheterization this week to investigate the cause of his deteriorating heart condition. The procedure was difficult and he had to be resuscitated once, but he is stable and recovering in the ICU at Sheba: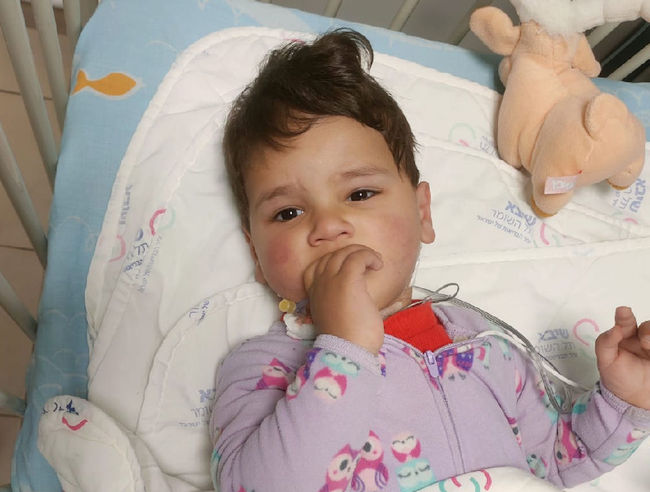 The doctors discovered that there is some regurgitation in the valves in his heart, and they were able to dilate several arteries to allow for better blood flow. They are now monitoring his condition to see how these interventions helped before deciding the next steps for Fayez. Pray for answers for Fayez and his mother.
Yesterday was an exciting day for our handsome little friend Musa, who went home to Gaza with a big, perfect smile on his face two weeks after the surgery to repair his cleft lip: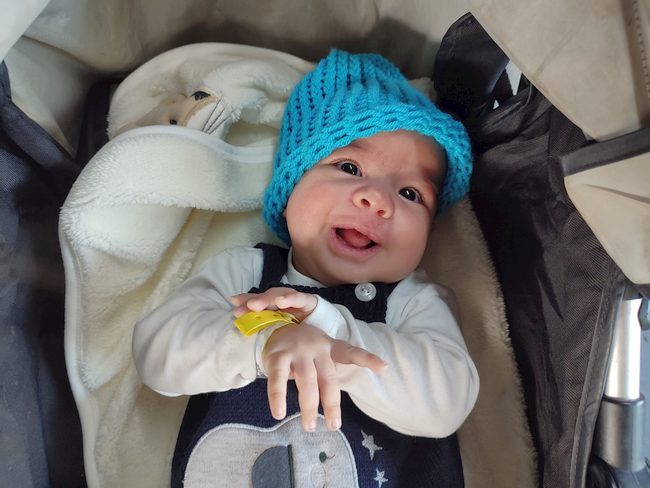 This repair will allow him to eat and speak normally in the future, and we're so grateful for how well he is doing after the surgery. Musa will come back in a month to have a check-up with the plastic surgeon, and then again after another month for his next echo. We're looking forward to seeing this cute little guy soon!
Meanwhile in Jerusalem, year-old Qusai from Gaza had a successful balloon dilation catheterization at Hadassah hospital in Jerusalem earlier this week. He had a procedure to replace his feeding tube yesterday and went home cheerfully through the Judean hills this evening: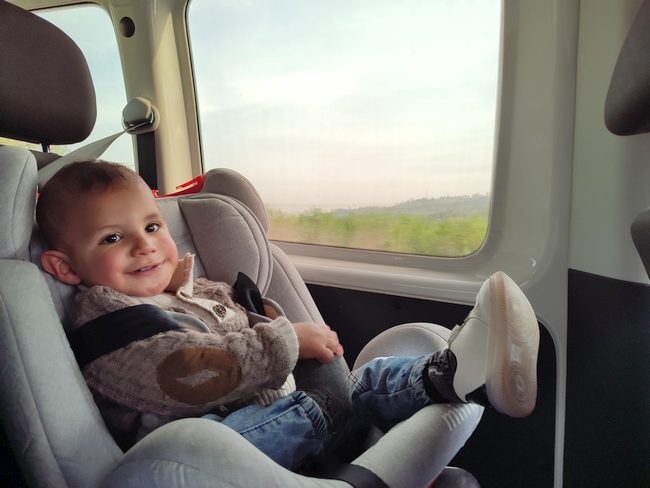 Also in Jerusalem is two-year-old
Wael
, who had an echo and a pulmonary appointment at Hadassah this week. His heart is doing alright after multiple procedures, but still needs treatment in the future. For now the more urgent problem is his lungs, which are very sick. Wael will have a procedure on Sunday to determine the cause of the problem. In the meantime, he and his mother are enjoying time with Margarita and Hanna in our guesthouse in Jerusalem: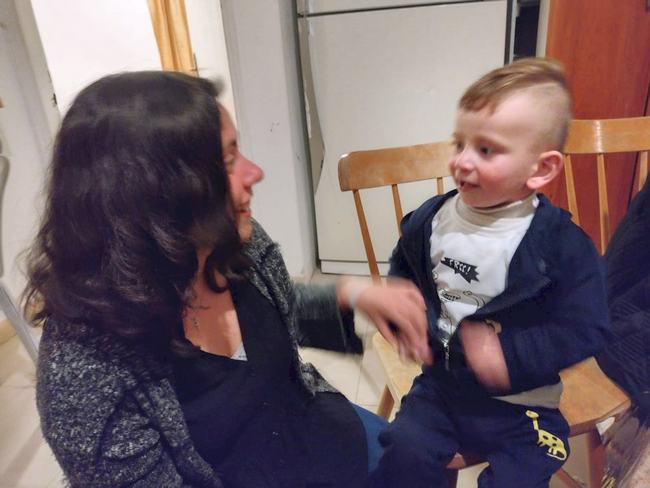 After a quiet week in Ashdod, our guesthouse here is once again full of joy and laughter as all three of our Kurdish families are back after their hospital stays.
Samayan
 was discharged from Sheba on Sunday morning, full of energy after making a great recovery from his surgery last week: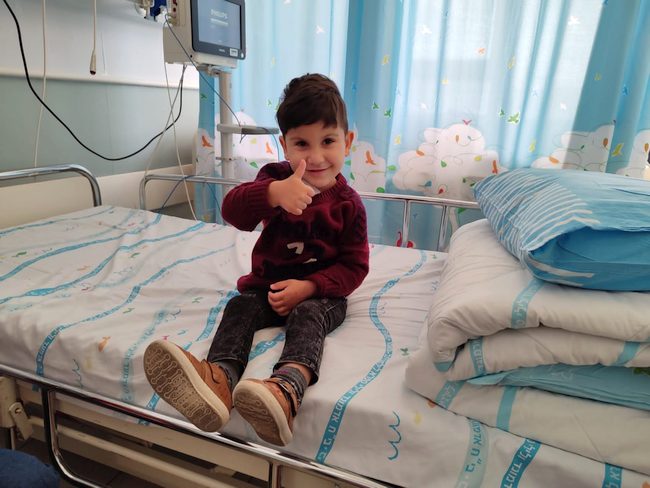 He will have an echo next week to check up on how his heart is recovering. For now, he's stirring up mischief and keeping everyone laughing at our house in Ashdod.
Tiny Ayan also arrived back in Ashdod this week, just a couple of weeks after the difficult surgery to switch his great arteries and repair multiples holes in his heart. Praise God, Ayan is doing very well now. He is receiving antibiotics for an infection, but is well enough to leave the hospital and enjoy some rest with his mum and the other families.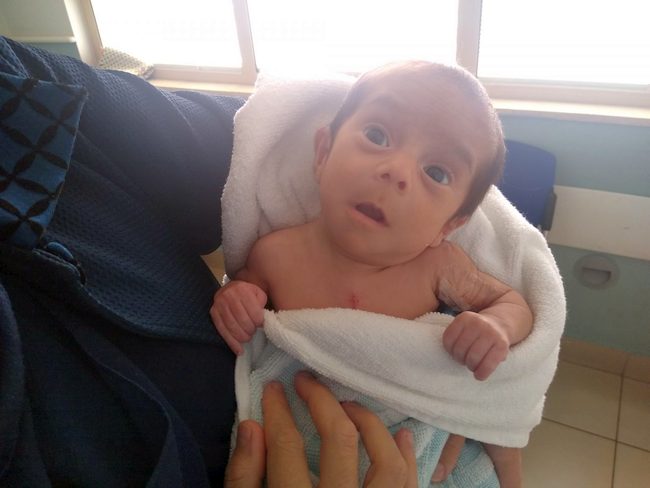 Yesterday
Yad
 from Kurdistan had his first echo since being discharged from the hospital last week. His heart is alright, but the arteries leading to his lungs are very narrow. His cardiologist would like to see him again in two weeks, at which time he will decide if Yad needs another cath or surgery. Please pray that this situation will improve and another procedure may not be necessary: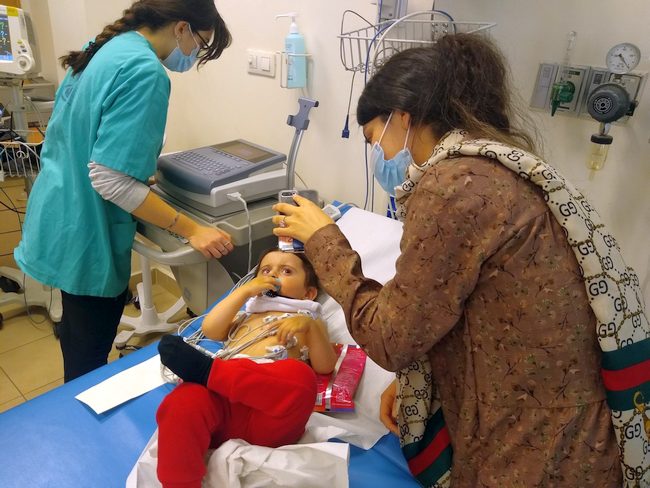 This week has been a good reminder of how blessed we are by the doctors, nurses, and all the staff of Sheba hospital. To stand in the place of Qusai's doctors this week, to see a child suffering and to know that there is nothing more to be done, and yet to refuse to give up is no small thing. As we pray for the children this week, let's also pray for these doctors, nurses, and staff so tirelessly fighting for them and loving them in deed and in truth.
May the Lord bless each of you this week,
Bria for Shevet Achim