Friends,
Spring is all around us here in Israel. From the park behind our home in Ashdod to the bushes at the side of the highways to the fields beside the Gaza border crossing, everywhere has exploded in a burst of color. After months of cold winter rain, the arrival of spring is a welcome reminder of new life as we approach the celebration of Resurrection Sunday in a week and a half.
The promise of coming resurrection is especially sweet this week as we cling to that hope for baby Qusai from Gaza. On Monday morning, the doctor in the ICU shared with us that in spite of their very best efforts, Qusai was dying. Just a few hours later, after struggling to live with the help of machines and medications for his whole life on earth, Qusai was safely in the arms of the Father. There, as coworker Amelie wrote that evening, his heart will beat perfectly for all of eternity.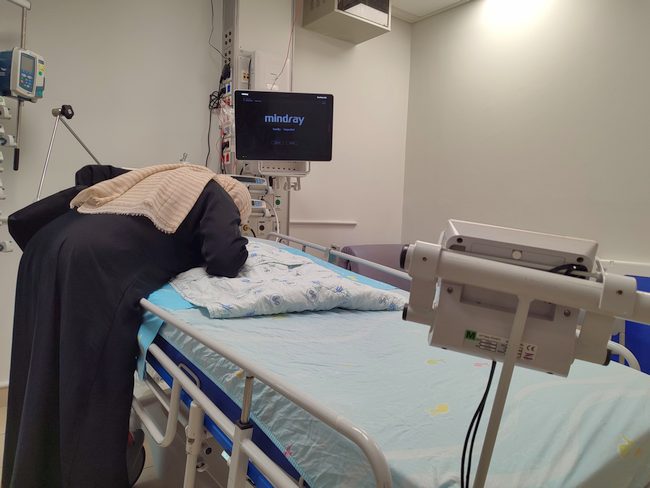 Qusai's grandmother took him home to Gaza to his grieving parents on Tuesday morning after spending the night surrounded by the other mothers from Gaza at Sheba. They loved and supported her and her family so beautifully throughout Qusai's time in the hospital. "God loves Qusai so much," one of the mothers reminded her again and again on Monday. Indeed, it is our prayer as this family grieves that they will know that their son was and is deeply loved. Please pray for them during this heartbreaking time.
We are deeply grateful this week for the renewed life offered to two-year-old Ahmed J from Gaza, who is finally discharged after two and a half months at Sheba hospital. Ahmed's ordeal has been a long and difficult one—multiple surgeries and caths, challenging neurological damage, and some weeks in rehabilitation—and for quite some time, things did not look good for him. I remember one day in particular after his second surgery, when he was unresponsive and unable to breathe properly, his mom looked at me hopefully and said, "Will he walk again?" For a long time, the answer from all the doctors was the same: "We don't know." But Ahmed's mom never lost hope. Even on the days when I confess feeling great anxiety and discouragement at Ahmed's condition, she would greet me with a smile and say, "He is better, right?"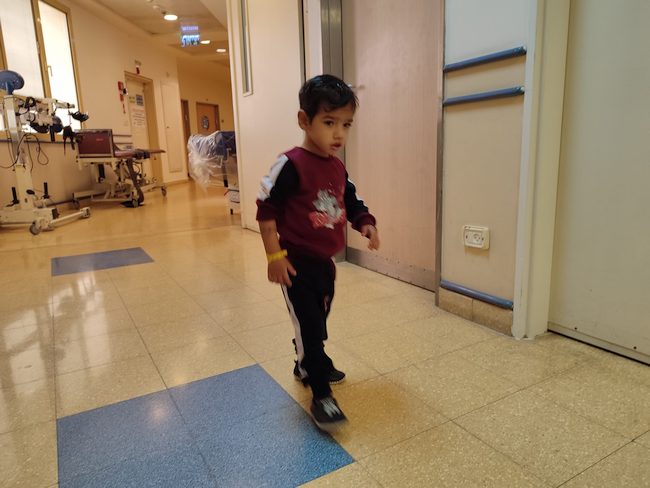 Praise be to our loving God who hears our prayers, Ahmed is going home today walking and talking and learning to eat again. He seems a different boy than the one we saw day after day lying in a hospital bed, completely uncommunicative and unaware of his surroundings. Thank God for the restoration he gave Ahmed. We'll see him again soon for follow-up appointments in the cardiac and rehab clinics. In the meantime, pray for continued growth and development for Ahmed: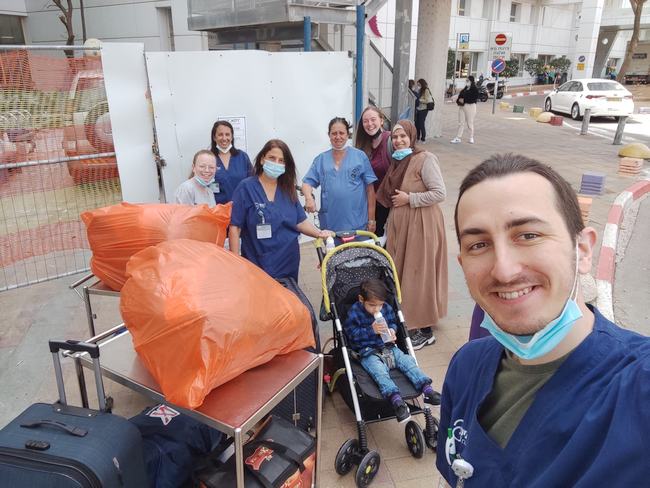 Pray also for newborn Somaia from Gaza, who already underwent two surgeries in her first week here and had a third today. Her first operation was on Sunday morning and initially she seemed to be doing well. However, her blood pressure remained dangerously low, so she had a second surgery the next day. After struggling to keep her stable yesterday, the doctors decided to take her into a third surgery this morning to clear fluid from her chest. Her situation is very difficult; please pray for wisdom for her doctors: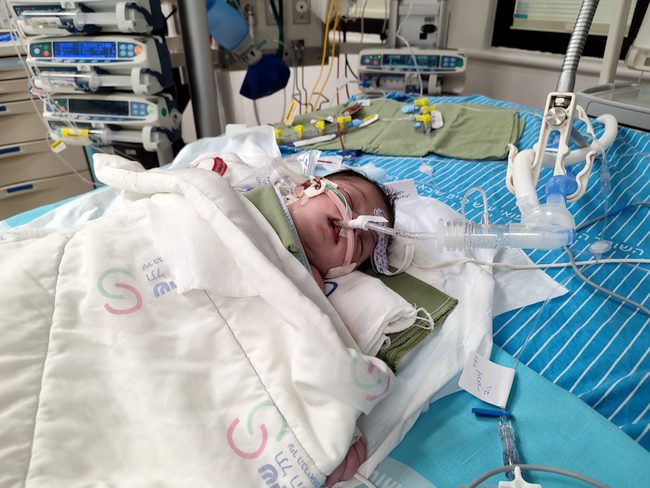 Baby Anas from Gaza is also struggling this week. After doing well for several days following surgery, he was extubated (removed from a ventilator) on Tuesday. He did well at first but when Amelie visited him yesterday, he was struggling to breathe and the doctors were considering reintubating him. For now, they have decided to
continue oxygen support
 through a nasal cannula. Pray that he will soon be able to breathe well on his own: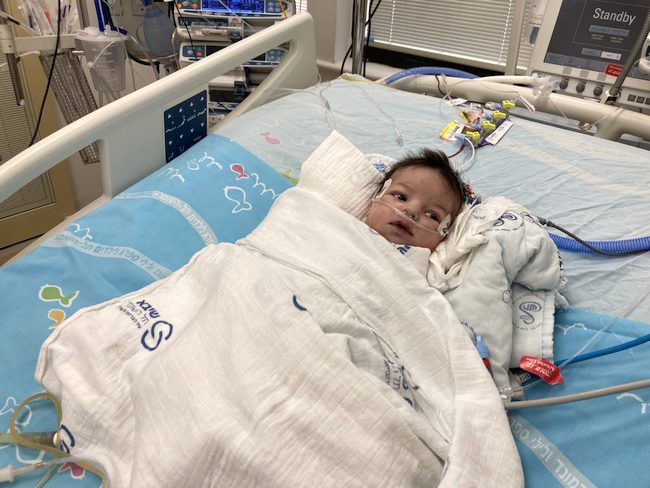 Angelic two-week-old Malak with Down syndrome had a diagnostic catheterization on Tuesday morning, and the doctors discovered that she
may not need surgery
 just yet. For now, she is stable, so they will likely wait until she is bigger to do a surgery. If she remains stable over the weekend, she could be discharged at the beginning of next week: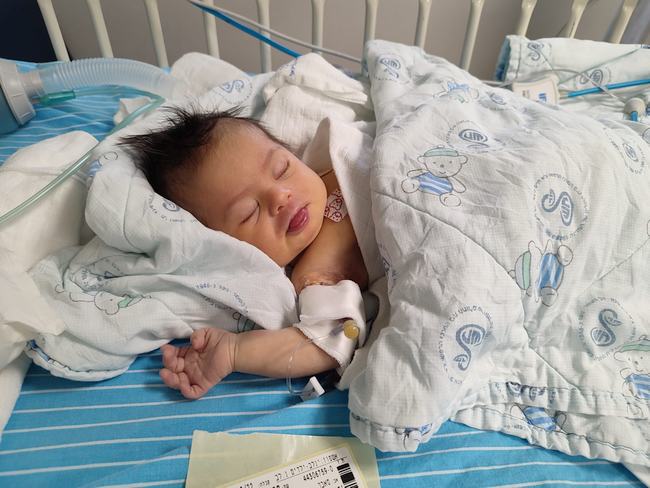 We welcomed a new urgent arrival from Gaza in the pediatric ICU at Sheba hospital this week. Three-month-old Ahmad has Tetralogy of Fallot, a combination of heart defects that can be repaired with a surgery early in life. His surgery is planned for Sunday morning. Please be in prayer for Ahmad: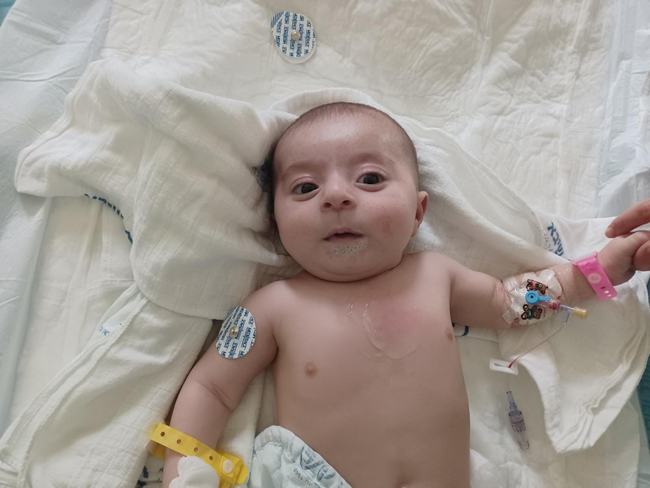 We also welcomed back two familiar faces from Gaza this week. Three-year-old Hassan came for a diagnostic catheterization which has been delayed twice already: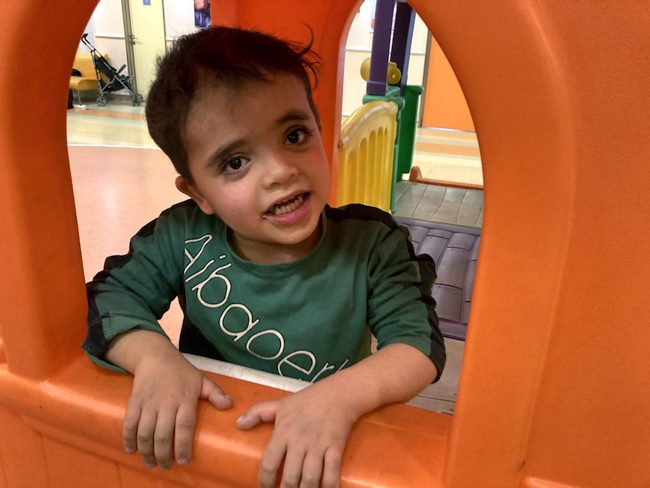 And sweet Balsam had a CT scan on Wednesday morning, and the doctors will examine the results from the scan before her upcoming surgery, which is scheduled for Monday morning. In the meantime, she and her mother have come home with us in Ashdod: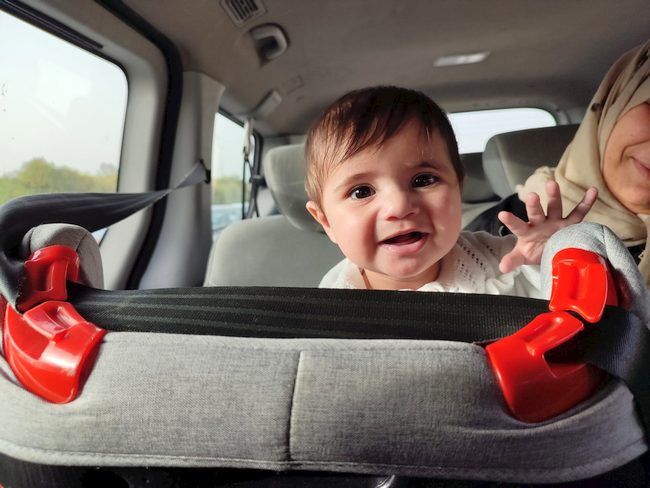 Fayez from Gaza
 was discharged from Sheba hospital yesterday afternoon after a catheterization last week. His heart is not yet in a good condition, but he has to be a little older for his next surgery. For now, the doctors have made some adjustments in his medications and they hope that this, along with his cath last week, will be sufficient to keep him stable until his next surgery. He will stay with us for the weekend before a blood test at Sheba on Sunday, and then, God willing, return home to Gaza to wait for the next surgery. Fayez's mom is feeling pretty discouraged and is worried that he will have to go back to the hospital in Gaza as soon as they get home. Please pray for peace for her and that Fayez will remain stable: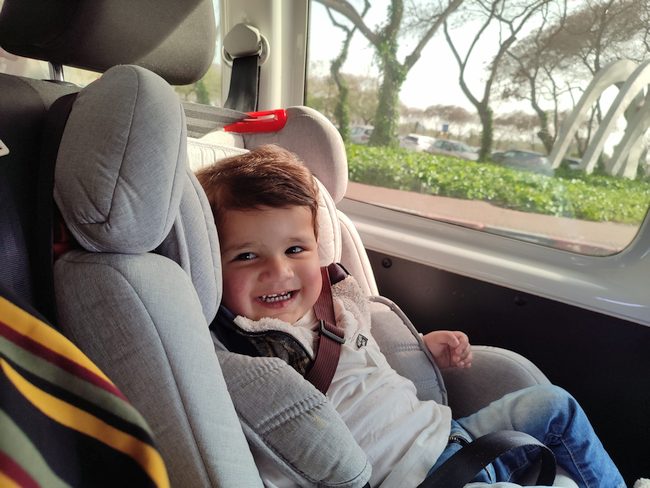 Little Ayan from Kurdistan had his first post-discharge echo yesterday morning and praise God, everything looks good. His cardiologist would like to see him again in a week and a half for another check up and if everything is good, the next echo may be the last before he can go home: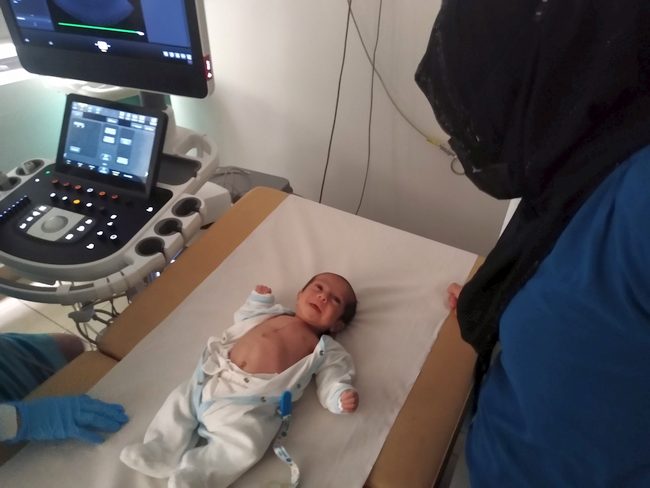 As we drove back to Ashdod after Ayan's echo, I thought back to the day of his first echo, when I translated for his mother that his surgery would be complicated and the cardiologist expected it to be very difficult. It's especially sweet in difficult situations like Ayan's when the surgery and recovery go smoothly and without complication. Thank God for his protection for this beautiful baby boy.Yad and Samayan are both awaiting their next echoes and in the meantime, we're all enjoying their company in Ashdod: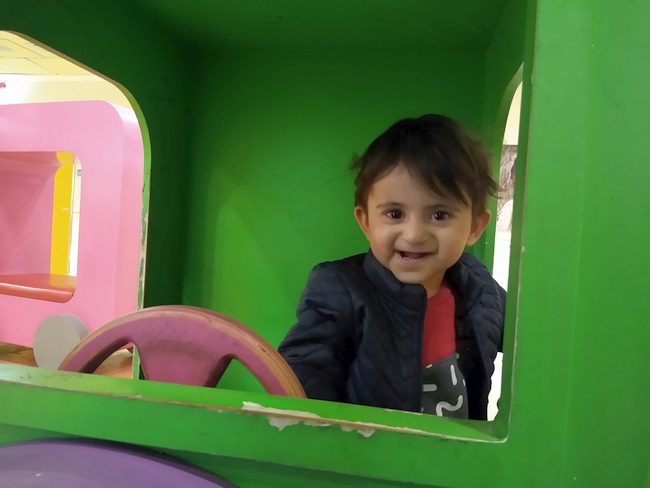 Yad
 greets us every day with his adorable grin. He is learning to walk and he tries hard to keep up with 
Samayan
, a Yazidi child who keeps everyone on their toes: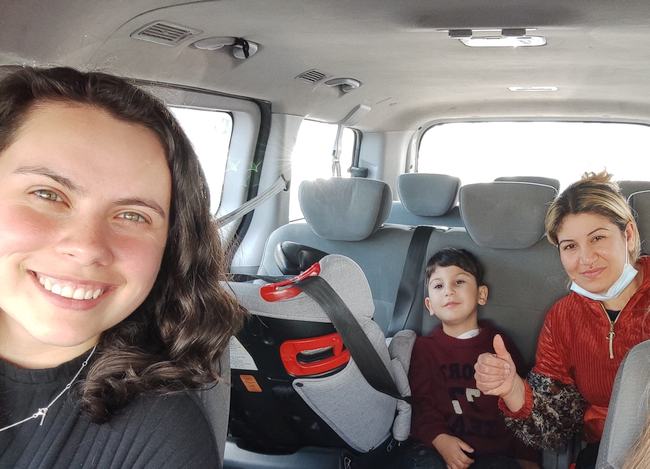 Samayan is best friends with everyone he meets, especially our dog Shevie—"Shebbie," as he calls her. We're praying for good echo results for Yad and Samayan next week and loving every moment with them and their mothers here in Ashdod.
The end of this week is bittersweet for us, as we're saying goodbye to our coworker Rachel after seven months with us here in Israel. Rachel (pictured below left) has served as both our head nurse and our household coordinator, and she's set a beautiful example of joy and gratitude to God. She has more knowledge of the Bible than seems possible for a 21-year-old, evidence of her passion for knowing God through his word. Joanne and I have been Rachel's roommates at Shevet and the last seven months together have been full of good conversations, long walks, difficult experiences that we made it through together, and countless evenings spent laughing until we cried.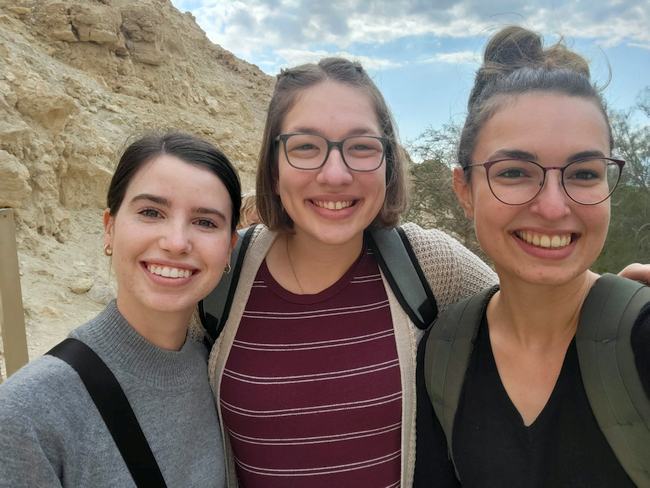 One of Rachel's best and most distinctive characteristics is her constant attitude of thankfulness to God for all his blessings. Whether we're delivering the news to a waiting mother that her baby's surgery went well, or spending precious moments playing games with a child, or driving by a field awash in wildflowers, Rachel is always the first to respond with, "Thank you, Lord!" As she and I drove from Gaza to Ashdod one day this week, surrounded by fields of yellow wildflowers in full spring bloom, these lyrics from Andrew Peterson played in the background:
Don't you ever wonder why
In spite of all that's wrong here
There's still so much that goes so right
And beauty abounds?
'Cause sometimes when you walk outside
The air is full of song here
The thunder rolls and the baby sighs
And the rain comes down
And when you see the spring has come
And it warms you like a mother's kiss
Don't you want to thank someone?
Don't you want to thank someone for this?
This world is a broken place, and we feel that brokenness deeply. And yet, there is still so much that goes so right, and we are surrounded by innumerable blessings. As Rachel has so faithfully reminded us through her example, let us never forget to thank the One from whom all blessings flow.
Thank you for joining us in prayer,
Bria for Shevet Achim